Economy
2023-June-18  18:03
Iran, Uzbekistan Sign 10 Cooperation Pacts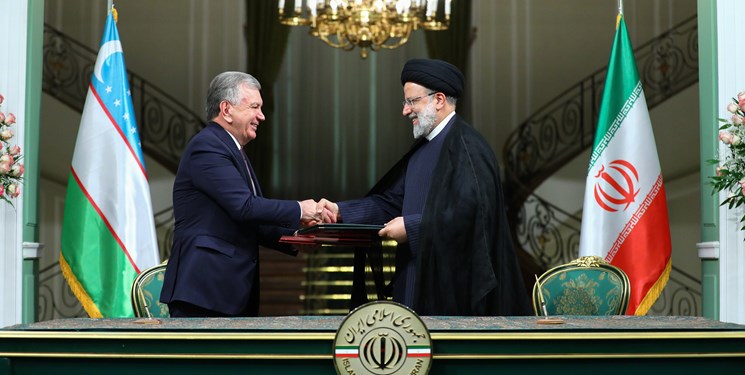 TEHRAN (FNA)- Tehran and Tashkent inked 10 cooperation agreements during an official visit by President Shavkat Mirziyoyev to Iran which marks the first trip by an Uzbek head of state to Tehran in more than 20 years.
The high-ranking Iranian and Uzbekistan officials signed 10 cooperation deals in the presence of President Seyed Ebrahim Rayeesi and President Mirziyoyev on Sunday.
According to the documents, Tehran and Tashkent will enhance cooperation in trade, transportation and transit, pharmacology, insurance, the establishment of joint free zones, technology and innovation, as well as agriculture.
Earlier in the day, President Mirziyoyev received a formal welcome from his Iranian counterpart at the Sa'dabad Palace in Tehran. The two presidents held a private meeting and then co-chaired a joint meeting of high-ranking delegations.
The Rayeesi administration has been pushing to forge closer relations with neighbors as well as regional and Muslim nations, as part of a campaign against the tough US sanctions in place against the country.
Iran's president has repeatedly stressed that his administration's foreign policy builds on forging balanced relations with all the world countries.
Iranian officials have underlined that the US has been defeated in the maximum pressure policy against Tehran, underscoring that the policy of isolating Iran has ended up in failure. They say Washington's sanctions and threats have all failed to cease Tehran's progress.