Politics
2023-August-1  17:12
Iran, Oman Exploring Ways to Enhance Bilateral Ties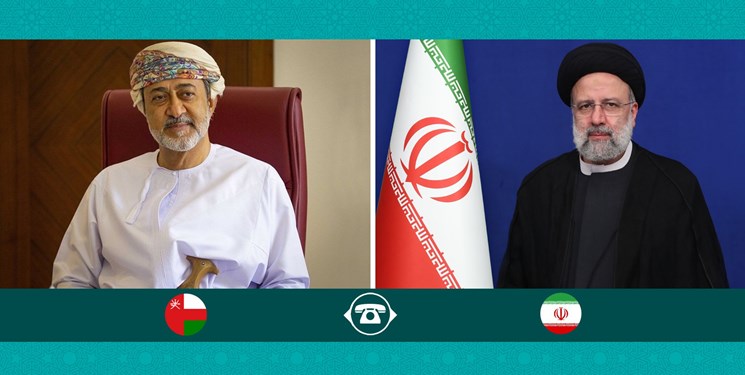 TEHRAN (FNA)- Iranian President Seyed Ebrahim Rayeesi and Omani Sultan Haitham bin Tariq Al Said exchanged views on ways to strengthen cooperation between the two Middle Eastern countries.
Iranian president's deputy chief of staff for political affairs Mohammad Jamshidi wrote on Twitter on Tuesday President Rayeesi and Sultan Hiatham and held telephone conversation, discussing ways to promote multilateral cooperation.
At the end of the two-day visit of Sultan Haitham to Tehran in late May, heads of state of Iran and Oman announced their readiness to finalize the strategic cooperation document between the two countries in various fields.
During the trip, Iran and Oman inked four documents to improve collaboration in the economic, energy and investment fields as well as free zones.
President: Iran-Oman Economic Relations Upgraded to Investment Levelhttps://t.co/6Dysy2fyru pic.twitter.com/Yq6ppiqcMT

— Fars News Agency (@EnglishFars) May 30, 2023
Tehran and Muscat enjoy close diplomatic and economic relations. Oman has long been an interlocutor in interactions between the West and Iran. The country has mediated the release of several foreign citizens and dual nationals. It has also played a mediating role between Tehran and the West in the build-up to the 2015 nuclear deal.
Trade between Iran and Oman reached some $1.8 billion in the Iranian calendar year to late March, up 41% from the previous year, according to figures by the Iranian government.
President of Iran Chamber of Commerce Gholam Hossein Shafei stated that trade between Tehran and Muscat can easily reach $3 billion per year considering the rapid rise in exchanges between the two countries over the past few years.
During President Rayeesi's trip to Muscat in mid-May 2022, Iranian and Omani officials signed 12 documents and memorandums of understanding for the expansion of bilateral cooperation in various fields.
In early May 2023, Iran and Oman reached an initial understanding to sign a preferential trade agreement (PTA).
The Rayeesi administration has been pushing to forge closer relations with neighbors as well as regional and Muslim nations, as part of a campaign against the tough US sanctions in place against the country.
Iran's president has repeatedly stressed that his administration's foreign policy builds on forging balanced relations with all the world countries.