Politics
2023-August-2  14:50
President: Iran-Syria Warm Relations Indicate Victory of Resistance Front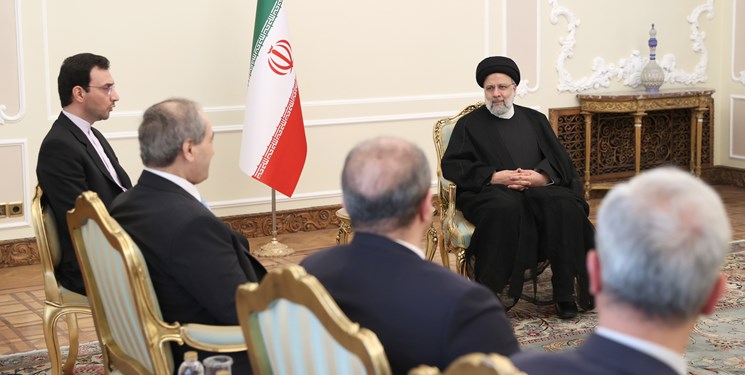 TEHRAN (FNA)- Iranian President Seyed Ebrahim Rayeesi praised the resistance shown by the Syrian government and nation against the 12-year foreign-backed terrorism, and described his recent historic visit to Damascus as a remarkable victory of the resistance movement.
President Rayeesi was speaking during a meeting with three Syrian ministers, including Foreign Minister Faisal Al-Mekdad, in Tehran on Tuesday.
Iran's president hailed the Syrian government and people's steadfastness and resistance against all-out sedition and aggression over the course of 12 years.
Rayeesi stated that the visit between him and Syrian President Bashar Al-Assad in early May served to convey the important message of great victory for the regional resistance front.
He laid emphasis on the need for "complete implementation" of the agreements that were reached during his trip, especially those concerning the economic and trade area.
"I hope that in near future, we get to witness [the implementation of] the next steps towards further development of the countries' ties," he added.
Mekdad, for his part, said his visit alongside his fellow Syrian ministers had taken place on Assad's initiative as means of conveying the depth of the strategic bilateral relations.
The Syrian top diplomat concluded his remarks by saying that, led by the Islamic Republic, the regional resistance front had shown that it could frustrate whatever plot could start targeting the region.
Iranian President: US-Led Economic War Against Syria Futilehttps://t.co/qFH7yltuxS pic.twitter.com/7KPbrGCcmn

— Fars News Agency (@EnglishFars) May 4, 2023
President Rayeesi and his accompanying delegation, which includes foreign, oil, defense, finance and economic affairs and roads and urban development ministers as well as Iran's central bank chief, visited Syria in early May. It marks the first state visit by an Iranian head of state to Damascus in 13 years.
During the trip, Rayeesi and Assad singed an agreement on "long-term strategic comprehensive cooperation" between the two countries.
The two presidents have highlighted the importance of Iran-Syria's long-term cooperation plan for advancing the interests of the two nations and other countries in the region.
In addition to the strategic cooperation agreement, the two presidents inked 14 other documents in various areas, including trade, oil and energy, engineering, housing, rail and aerial transportation, free trade zones, communications and technology, earthquake reliefs, and facilitation of pilgrimage to the holy sites for the people of the two Muslim nations.
President Rayeesi Vows Tehran's Strong Support for Syria's Reconstructionhttps://t.co/7tklPcyV40 pic.twitter.com/jqaXELJA3h

— Fars News Agency (@EnglishFars) May 3, 2023
Since 2011, Syria has been gripped by foreign-backed militancy, as a result of which Daesh and other terror groups emerged in the country.
US forces were first sent to Syria in 2014, beginning with a contingent of special operators followed by more conventional ground troops the next year, most embedded with Kurdish fighters in the country's oil-rich Northeast. Though then-President Barack Obama maintained the deployment was focused only on combating the Islamic State (IS, formerly ISIS, ISIL or Daesh) terrorists, Washington had long intervened in Syria's war against terror groups, sending and overseeing countless arms shipments to militants seeking to overthrow the government in Damascus.
Though American involvement in the conflict slowed under the next administration, in 2019 President Donald Trump noted some US troops would remain in Syria "for the oil", openly suggesting Washington would simply "keep" the energy resources. 
Subsequent reporting in 2020 would later reveal that the Trump administration had approved a deal between a US energy firm and Kurdish authorities controlling Northeast Syria to "develop and export the region's crude oil" – a contract immediately condemned as "illegal" by Damascus. However, while that particular deal would later fall through after President Joe Biden took office, Syrian authorities have continued to accuse Washington of plundering its resources and some 900 US troops remain in the country illegally.
Syria, Iran, Russia and China have repeatedly called on Washington to stop plundering Syria's national resources and respect the sovereignty and territorial integrity of the Arab country, calling on foreign occupation forces and their mercenaries to leave the war-ravaged country.
Iran maintains an advisory mission in Syria at the request of Damascus with the aim of helping the war-ravaged country get rid of the foreign-backed militants who have been fighting against the democratically-elected Syrian government since 2011. Several members of the IRGC have so far martyred in battle against terrorists in the war-torn Syria.
Tehran has stressed that Washington's claim of war on terrorism is merely a pretext to continue occupying the Arab country and plundering its wealth, calling on foreign occupation forces and their mercenaries to leave the war-ravaged country.