Politics
2023-August-4  18:15
FM: Iran Sees No Limits in Expansion of Ties with Pakistan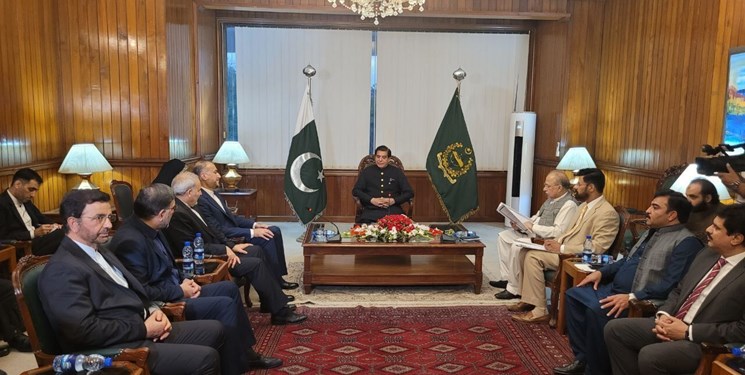 TEHRAN (FNA)- Iranian Foreign Minister Hossein Amir Abdollahian lauded the status quo of Iran-Pakistan cooperation, and said that Tehran envisages no restrictions for expansion of relations with Islamabad as Tehran attaches special importance to the development of ties with its neighbors.
Amir Abdollahian made the remarks in meetings with  Chairman of the Senate of Pakistan Sadiq Sanjrani, and Speaker of the National Assembly of Pakistan Raja Pervaiz Ashraf in Islamabad on Thursday.
"The Islamic Republic of Iran does not have any restrictions in the expansion of relations with its friendly, brotherly, and neighboring country of Pakistan, and it attaches special importance to the development of relations with this country,"  Amir Abdollahian said in his meeting with the Chairman of the Senate of Pakistan.
 Amir Abdollahian called the gas pipeline project of Iran-Pakistan one of the important issues of cooperation between the two countries.
Stressing the implementation of joint agreements and projects to expand border terminals and markets, he said, "In this regard, we also have plans to create commercial and economic free zones in border areas with Pakistan."
Sanjrani, for his part, called Iran a powerful country with rich human and natural resources and added, "Pakistan wants as much authority as possible from the Islamic Republic of Iran."
The parliaments of the two countries act very harmoniously in international arenas and adopt common positions, which strengthens the views of the two parliaments at the international level, he said, hailing the assistance of the Iranian Parliament in this regard.
Amir Abdollahian arrived in the Pakistani capital of Islamabad on Wednesday night, for a three-day official visit.
On Thursday, he met with his Pakistani counterpart Bilawal Bhutto Zardari to explore new avenues for strengthening political, economic, and defense relations between Tehran and Islamabad.
Amir Abdollahian also in his meeting with Pakistani Prime Minister Shehbaz Sharif conferred on expanding economic and commercial ties and stressed the need for strengthening border ties between the two neighboring countries.
He left Islamabad for Karachi on Friday to meet with local officials and businesses, as well as Iranians residing there, and also to participate in Friday prayers.