Politics
2023-September-2  11:56
Iran Cautions Regional Countries of Consequences of Normalization with Israel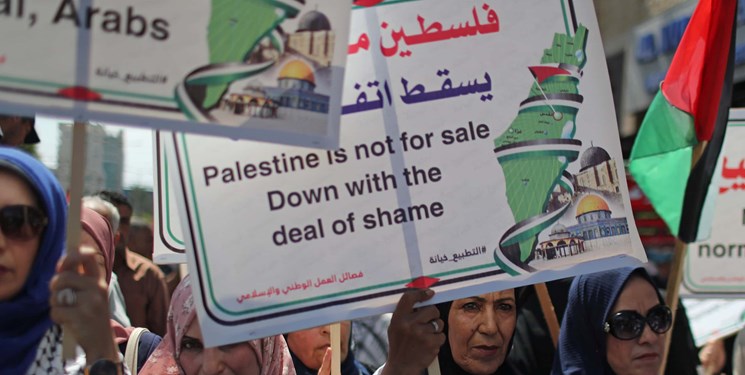 TEHRAN (FNA)- Iranian Foreign Minister Hossein Amir Abdollahian warned Arab states against the adverse consequences of normalizing relations with the Zionist regime, describing the move as a "strategic mistake".
The minister made the remarks at a press conference in Lebanon capital Beirut on Friday.
Amir Abdollahian said Iran believes any normalization of ties with Israel would be a "strategic mistake".
"We always advise our friends in the region to prevent any normalization of relations with a regime that brought nothing to the region but insecurity," the top diplomat stated.
Iran's Leader: Israel's Collapse to Happen Sooner Than Expectedhttps://t.co/5j2YKLWlfY pic.twitter.com/01K3TSdoc1

— Fars News Agency (@EnglishFars) April 6, 2023
Back in 2020, the United Arab Emirates (UAE) and Bahrain signed United States-brokered agreements with Israel to normalize their relations with the Tel Aviv regime. Some other regional states, namely Sudan and Morocco, followed suit soon afterward.
Palestinian officials censured the deal between the Arab countries and Israel to establish normal diplomatic relations, describing the agreement as a "treacherous stab in the back of the Palestinian nation".
Iranian officials have repeatedly warned about the serious threat posed to the West Asian region by Israel, and stressed that normalization of ties with Tel Aviv will not bring security and stability to the regional Arab states.
Iranian President Seyed Ebrahim Rayeesi has recently cautioned that Israel is seeking to normalize ties with Arab states to dash the Palestinian people's hopes of liberating their motherland, but meanwhile said that the Zionist regime's all-out efforts will be futile as the Muslim nations are the most serious opponents of the Abraham Accord.
He also stated that supporters of normalization with Israel have come to realize that standing against Tel Aviv is the sole way to stop the regime's aggression against the Palestinians, and added that the power of resistance groups has driven the Zionist regime closer to downfall.