Politics
2023-September-4  13:26
Security Chief: Iran-Turkey Cooperation to Boost Regional Security, Stability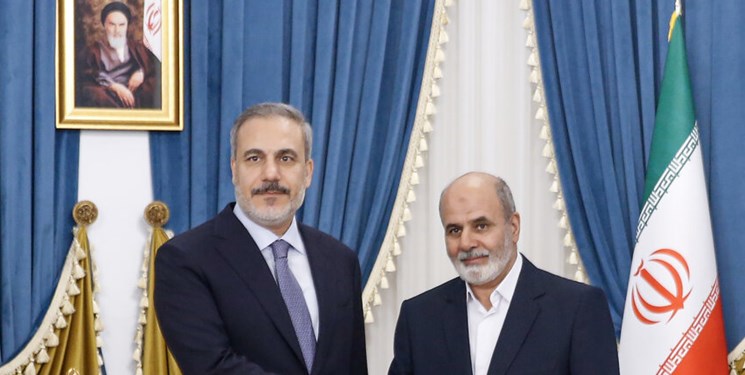 TEHRAN (FNA)- Secretary of Iran's Supreme National Security Council (SNSC) Ali Akbar Ahmadian said that collaboration between Tehran and Ankara will guarantee security and stability in West Asia and fulfill the interests of the two neighbors.
Ahmadian made the remarks in a meeting with Turkish Foreign Minister Hakan Fidan in Tehran on Sunday.
The SNSC chief stated a regional security depending on outsiders' support cannot be lasting, stressing that only cooperation among the countries in the region can lead to sustainable stability.
Ahmadian noted that the regional states have reached the common understanding that a stability borrowed from others "would not be guaranteed and lasting", adding that only "indigenous mechanisms and regional collaboration can guarantee sustainable security" in West Asia.
The top security official also pointed to longstanding cooperation between Tehran and Ankara, noting that relations between the two countries are conducive to security and stability in the region.
"Expansion of cordial relations between the two neighbors will help both Iran and Turkey meet their long-term interests," he said.
The Turkish foreign minister, for his part, expressed Ankara's interest in all-out expansion of mutual ties with Tehran.
Fidan also expressed hope that a new chapter of bilateral and multilateral collaboration would open between the two countries.
In the last two decades with President Recep Tayyip Erdogan at the helm, relations between Tehran and Ankara has bolstered. Turkey has been among the few countries resolutely opposing the illegal US sanctions against Iran.
On the other side, Iran was among the first countries to denounce an attempted military coup staged against the Erdogan government in 2016 and was also among the first to send humanitarian aid and relief teams during February's devastating earthquake in Turkey.
Tehran has cautioned that any plan aimed at increasing the presence of foreigners in the Middle East will only foment insecurity and instability and spread terrorism, asking the neighboring countries to be extremely vigilant about any US-Israeli plan that clearly aims to disturb the stability and order of the region.
Iranian officials have underlined the necessity for the settlement of the crises and problems in the region through collective cooperation among the regional states, and underscored that the presence of outsiders is harmful.