World
2023-September-12  15:25
Putin Says There Are No Results of Ukraine's Counteroffensive, Kiev Losses Some 71,000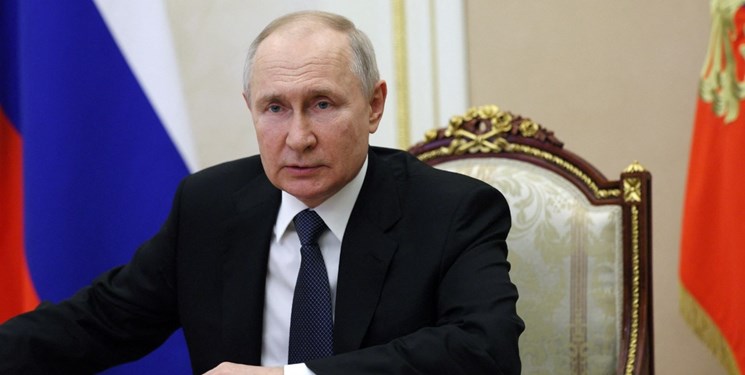 TEHRAN (FNA)- Russian President Vladimir Putin said there were no results of the Ukrainian counteroffensive and that Kiev had lost about 71,000 soldiers. Putin commenting on Ukraine's counteroffensive said that sometimes there is an impression that these are not their people when they throw them into battle.

"Ukraine is conducting a so-called counteroffensive. And there are no results, we will not say now - failure, not failure... There are losses, big losses. Since the beginning of the counteroffensive, 71,000 people have been killed," Putin said, Sputnik reported.
Answering the question about the possibility of cessation of hostilities in Ukraine, Putin said that Russia cannot stop hostilities if Ukraine is in the counteroffensive.
Putin added that the delivery of cluster munitions to Ukraine hasn't changed anything on the battlefield.
According to Putin, Russian forces have destroyed 543 tanks and some 18,000 armored vehicles belonging to the Ukrainian armed forces during the counteroffensive.
The Russian president also said that there is a "forced mobilization" in Ukraine, describing the process as "one wave after another."
Regarding Ukrainian President Volodymyr Zelensky's law banning Kiev-Moscow negotiations, Putin said that everything might change if Washington makes such decisions.
"As for the negotiation process, if the United States believes that Ukraine is ready for negotiations, then let them cancel the decree of the president of Ukraine, which prohibits negotiations," Putin said.
A Ukrainian sabotage group, which aimed to blow up power lines in Russia and were captured, have admitted that they were trained by the instructors from the United Kingdom, Putin said, adding that it seems like they are provoking Russia to strike Ukrainian nuclear facilities.
"During the clash, the FSB [Russia's Federal Security Service] captured several people, [some] were destroyed, the rest were taken prisoner, it turned out that this was a sabotage group of the Ukrainian special services. Interrogations are ongoing, which show that their task was to cause damage to one of our nuclear power plants, to blow up power lines in order to ultimately disrupt the operation of the power plant. This is not their first attempt," Putin said.
The Russian president added that Ukrainian saboteurs have admitted that they were trained by the UK instructors during the interrogation.
"Do they even understand what they are playing with or not? Why are they provoking us to take some kind of retaliatory action against Ukrainian nuclear facilities, nuclear power plants?" Putin said.
Putin also said that he is not ruling out that the UK does not know what their intelligence services are doing in Ukraine.
Earlier, Russian Defense Minister Sergei Shoigu said that the Ukrainian armed forces have failed to achieve any of their goals in three months of counteroffensive.
Ukraine launched a counteroffensive against Russian forces in early June after multiple postponements. Citing the counteroffensive's needs, Kiev pushed its Western donors to step up the military and financial aid.