World
2023-September-12  15:43
Officials Say Over 3,000 People Feared Dead, Another 10,000 Missing After Flooding in Libya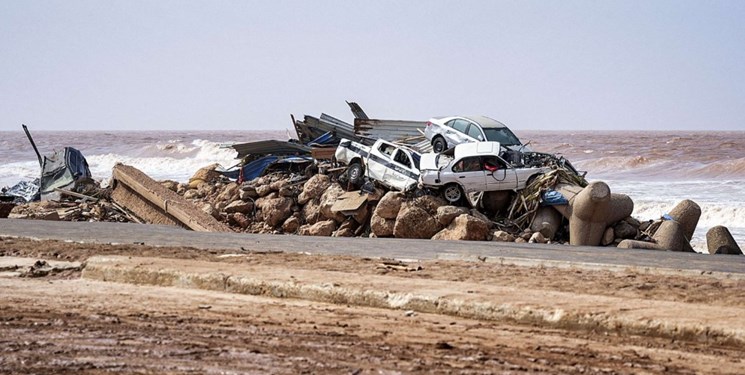 TEHRAN (FNA)- More than 3,000 people are believed to have died in devastating floods across eastern Libya, the country's health minister said Tuesday.


Another 10,000 people are believed to be missing, according to Tamer Ramadan, Libya envoy for the International Federation of Red Cross and Red Crescent Societies, ABC News reported.
"The death toll is huge and might reach thousands," Ramadan said during a press briefing on Tuesday.
In just the city of Derna, the worst hit area, at least 700 people have been confirmed dead from the unprecedented flooding. Authorities have declared Derna a disaster zone, saying the city has become inaccessible as electricity and communication have been cut off.
An additional 1,200 people were injured in Derna, according to the Libyan military.
The cities of Al Marj, Susah, Shahat and Al Bayda have also recorded several fatalities.
"Entire neighborhoods have been wiped out…with their residents," Libya's head of military said during a press conference on Monday.
Mediterranean storm Daniel is behind the widespread flooding in the North African nation as it swept away entire neighborhoods and destroyed homes in several coastal towns over the weekend.
Libya's National Center of Meteorology reported that more than 16 inches of rain fell in the city of Bayda within a 24-hour period to Sunday, according to the flood tracking website Floodlist.
Initial reports indicated that the storm damaged dozens of cities and villages in the area, according to Georgette Gagnon, the United Nations humanitarian coordinator for Libya.
"I am deeply saddened by the severe impact of [Storm] Daniel on the country and have tasked an emergency response team to prepare to support local authorities and partners in the region," Gagnon wrote in a post on social media on Monday, adding, "I call on all local, national and international partners to provide urgent humanitarian assistance to those affected at this difficult time."
US Special Envoy to Libya Ambassador Richard Norland announced Tuesday that the American embassy in Tripoli "has issued an official declaration of humanitarian need in response to the devastating floods in Libya".
"The declaration of humanitarian need will authorize initial funding that the United States will provide in support of relief efforts in Libya," Norland said in a statement.
"We are coordinating with UN partners and Libyan authorities to assess how best to target official US assistance. In addition, we have been contacted by many Libyan Americans anxious to make private contributions to relief efforts and we will work with Libyan authorities to direct those resources to where they are most needed," he added.
Last week, the same storm system hammered the Southeastern Mediterranean, killing at least 26 people in Greece, Turkey and Bulgaria, according to The Washington Post.