Politics
2023-September-13  14:25
AEOI Chief Calls on West to Refrain from Raising Excessive Demands Regarding Iran's N. Program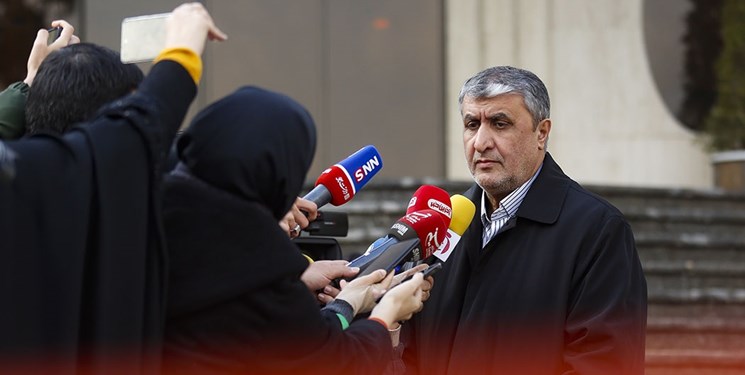 TEHRAN (FNA)- Head of the Atomic Energy Organization of Iran (AEOI) Mohammad Eslami underlined that his country is standing against excessive demands by the European troika regarding its peaceful nuclear program, and further said that Tehran will continue its nuclear measures as long as US sanctions remain in place.
"European countries cannot expect us to fully implement the nuclear deal while they do not fulfill any of their obligations," Eslami told reporters on Wednesday.
"As long as the other parties [to the 2015 agreement] fail to live up to their commitments and sanctions are not fully lifted, it is natural that we will continue the current trend," he underscored.
The nuclear chief further explained that the four safeguards issues between Tehran and the the International Atomic Energy Agency (IAEA) have been reduced to two, given Iran's interaction with the UN nuclear watchdog and its clarifications of the issues.
The official added that the meeting of the IAEA Board of Governors is unlikely to conclude with an anti-Iran resolution.
Informed Source Rejects WSJ Report on Iran's Slowing Down Nuclear Activitieshttps://t.co/Jl7aG3CRMp pic.twitter.com/5I34bmXoyR

— Fars News Agency (@EnglishFars) August 12, 2023
Iran proved the peaceful nature of its nuclear program to the world by signing the 2015 nuclear deal with six world powers. However, Washington's exit in May 2018 and its subsequent re-imposition of sanctions against Tehran left the future of the agreement in limbo.
Iran has always had full cooperation with the IAEA and allowed it to visit the country's nuclear sites, but calls the nuclear agency's approach unconstructive and destructive. Tehran has asked the watchdog to avoid politicizing the issue and focus on technical aspects in line with the organization's mandate.
Iranian officials have repeatedly called on IAEA Director General Rafael Grossi to stop Israeli-influenced attitude, and emphasized that Tehran would never surrender to the political behavior of the UN nuclear watchdog that is affected by the Zionist pressures.
Tehran has on many occasions voiced its readiness to resolve differences with the UN nuclear body within a framework of constructive and mutual interaction and technical collaboration.