Politics
2023-September-17  13:47
Iran Seizes 6,000 US-Made Stun Guns in Persian Gulf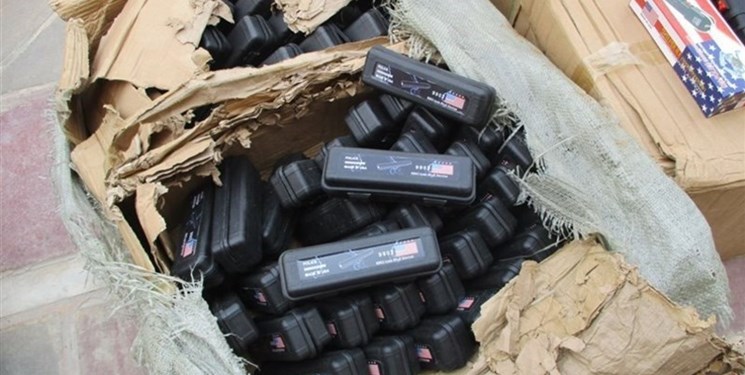 TEHRAN (FNA)- Iranian intelligence forces managed to confiscate a large cargo of US-made weapons which had been planned to be used in riots across the country on board a vessel near a port city on the shores of the Persian Gulf.
Chief Justice of Hormozgan Province Mojtaba Qahremani said on Sunday that the intelligence agents captured the weapons on board a ship near the port city of Khamir in the Southern coastal province of Hormozgan upon entering the maritime border of the country.
He added that the large haul includes more than 6,000 US-made stun guns which had been stashed in a barge.
The official announced that two individuals related to the case were arrested. 
Qahremani stated that the preliminary inquiry indicates that the stun guns have been shipped to Iran for the purpose of fomenting riots and chaos.
The Iranian forces have in recent months identified and dismantled several anti-security groups across the country. Hundreds of weapons, including US-made arms, were seized in the operations.
The raid on the arms smuggling groups comes as terror groups had ramped up their activities to undermine the security and stability of the country by hijacking rallies over the death of Mahsa Amini to stir chaos.
The Iranian officials have recently warned of a new plot by enemies to stir chaos in the country on the anniversary of the foreign-backed unrest that broke out following the death of the young Iranian woman.
Protests erupted in several cities across Iran over the death of Amini who fainted at a police station in mid-September 2022 and days later was pronounced dead at a hospital. The demonstrations soon turned violent.
Iranian officials blame Western countries for orchestrating the riots to destabilize the country.
The unrest has claimed the lives of dozens of people and security forces, while also allowing acts of terror and sabotage across the country. Iran's Interior Ministry has confirmed the enemy waged a hybrid war against the country to weaken national solidarity and hinder the country's progress, stressing that some 200 people lost their lives in the riots sparked by separatist and terrorist groups.
The US, the UK and the EU have imposed a slew of sanctions against Iranian individuals and legal entities since the September death in police custody of an Iranian woman. Iran has returned the adversarial measures and meddlesome statements with sanctions against European, American and British officials and institutions.