World
2023-September-18  15:16
US: At Least 6,566 People Counted as Homeless in Southern Nevada in 2023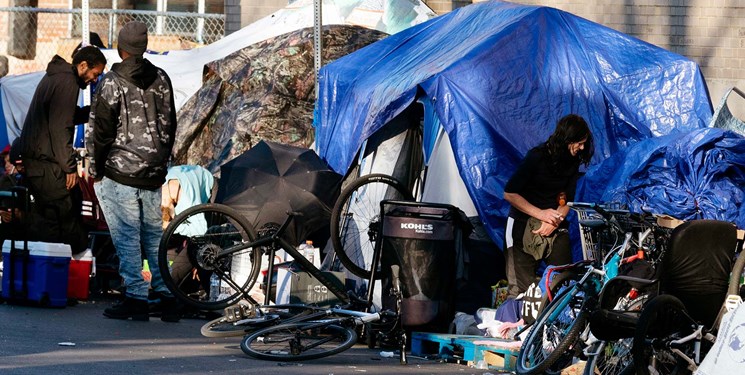 TEHRAN (FNA)- The iconic Las Vegas strip has seen a surge in homeless people sleeping on the sidewalks and in makeshift tents as the city grapples with an affordable housing crisis.
New images taken by DailyMail.com show people curled up in the sidewalk and outside store fronts - with some keeping their minimal belongings in trolleys and encampments. 
At least 6,566 people were counted as homeless in Southern Nevada in late January of this year, according to statistics from the Southern Nevada Homelessness Continuum of Care.
Of the group, about 3,780 were living on the street, outdoors, in vehicles or in  encampments, with another 132 at the Courtyard Resource Center while 2,654 were in emergency shelter or transitional housing. 
But as Las Vegas' homeless population grows - the luxury property market in Nevada is booming. 
The area's high-end market is experiencing a resurgence as rich Californians - including celebrities like Mark Wahlberg -  fed up with crime and a new mansion tax - arrive in droves, swapping their homes overlooking the Pacific for views of the Mojave Desert. 
This year, nearly 17,000 people have surrendered California driving licenses to the Nevada Department of Motor Vehicles. 
"The mansion tax in California has frustrated a lot of Californians. That, combined with their income tax rate, has caused so many Californians to come to Nevada, a tax-free, business-friendly environment," Alexis Michaud, a real estate agent for Vegas-based brokers the Mullin Group, told DailyMail.com.
But, there is a flow-on effect and as home prices climb, it's become more difficult for low income earners to get into a property. 
At last 86 percent of low-income households in Las Vegas were bringing in less than $24,300 or less per year. 
The average rent price in Downtown Las Vegas can span between $995 for a studio to $2,395 for a two-bedroom apartment, putting pressure on families trying to juggle raising kids. 
In Clark County alone, this year there is a shortage of 85,000 affordable housing units, according to the National Low Income Housing Coalition.
While 1,614 people suffered from substance abuse issues, at least 1,887 live with mental health challenges. 
The data indicated 16,251 people will experience homelessness in the community at some point this year. This is more than double the highest figure ever recorded in Las Vegas - in 2015, 7,509 homeless people were counted. 
A lack of income and an inability to afford rent are cited as the leading barriers to obtaining housing, according to the Nevada Homelessness Alliance.
The organization claims Nevada has the worst shortage among states across the US with 19 affordable units for every extremely low income (ELI) household. 
In Las Vegas, the shortage is even greater with only 14 available units for every 100 affordable homes needed - the national average is 37. 
Multiple jurisdictions make up the Las Vegas valley, the largest being Clark County which includes the Last Vegas strip. Each have their own services and nonprofit providers that aim to help the homeless community. 
A Clark County spokesperson told DailyMail.com work is being done to actively to help people. 
"Clark County has taken an innovative approach to homelessness through our non-congregate care sites at some local, non-Las Vegas Strip hotels, to get people and families off of the streets with wraparound services to address their needs and reduce the likelihood they will go back on the streets," the spokesperson said.
"Affordable housing is a problem that has led to an increase in non-traditional homelessness and through Welcome Home, Clark County is investing and incentivizing the building and rehabilitation of affordable housing units for working people, families, and seniors who find themselves priced out of the rental or homeownership market," the spokesperson added.
Housing instability can cause educational disparities and leads to poor school performance. 
While 87 percent of homeless youth are enrolled in school, only 77 percent attend school regularly. Students experiencing homelessness achieve lower proficiency in reading and mathematics than their peers.  
Jace Radke, public affairs advisor for The City of Las Vegas, told DailyMail.com efforts are underway to provide solutions.  
"For the city of Las Vegas, the focus is to help those experiencing homelessness to become healthy, housed and hired," he said. 
The Courtyard Homeless Resource Center is used to help assist clients in connecting to services that can help them break the cycle of homelessness.  
"The Courtyard is a low barrier shelter that allows anyone entry and they can bring their belongings and pets in with them," he said, adding, "We have case workers who work with each client to determine how they can be helped in gaining access to health care, housing, employment and more."
"The Courtyard also uses a shuttle to provide transportation for people who may need to visit the social security office, DMV and other essential services. In addition, the city also employs outreach teams that are in the community every day making contact with those experiencing homelessness who are out on the streets," he said.
While work is underway to help vulnerable people into housing, numbers recorded this year compared to last year show the issue of homelessness is on the rise. 
Data this year showed a 14 percent increase from the 2022 count which identified 5,645 people. 
It is believed about 1,500 people live in the 600 miles of tunnels and washes across Las Vegas, which caused concern due to recent rising flood waters. 
Robert Banghart, Outreach director at Shine A Light - an organization that helps hundreds of people living in the underground flood channels said, "'The danger is obviously getting washed away. The debris, the amount of water, they're not prepared for all that," he told Fox 5 Vegas. 
"Seems like every year, one or two people get washed away. Most people it's the debris that drags them down," he added.
"Their homes are underground, so they've collected items over time, and then all of a sudden, the water comes rushing through, and then in an instant it's all gone, and it's all collected in grates and vents, so it's dangerous," he said.
Data shows there is around 365,160 people living across Nevada who worry about access to food. 
Earlier this year, the US Department of Housing and Urban Development assigned nearly $15 million in grants to the Southern Nevada Homelessness Continuum of Care. 
The funds are set to be dispersed over the next three years to address homelessness throughout Southern Nevada.
"No person regardless of circumstances should have to live life on the streets," said Tim Burch Administrator of Human Services. 
"It cannot be overemphasized what an impact these funds can have when communities come together with both short-term solutions, but also long-term goal-oriented objectives and programs," he added.