Politics
2023-September-18  17:37
Iran: E3's Decision to Retain Sanctions Lacks Legal, Int'l Value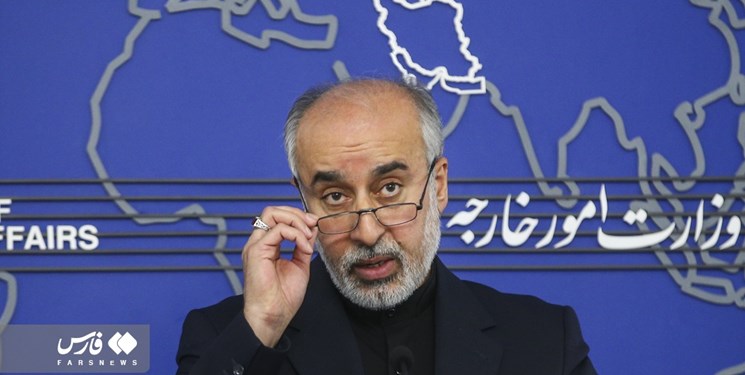 TEHRAN (FNA)- Iranian Foreign Ministry Spokesman Nasser Kana'ani condemned a decision by the UK, France and Germany to keep in place the sanctions against Tehran, relating to the ballistic missiles and nuclear issues, in contravention in violation of 2015 nuclear deal, saying that the move is lacking any legal and international value.
The spokesperson made the remark at a weekly press briefing in Tehran on Monday.
The sanctions were due to expire next month under the agreement, which is officially known as the Joint Comprehensive Plan of Action (JCPOA). The European trio, aka the E3, which is part of the accord, however, announced on Thursday that they intended to keep the bans beyond the deadline (READ MORE).
Reacting to the E3 decision not to lift the arms embargo against Iran, Kana'ani stressed that the move is devoid of any legal and international weight.
"After October 18, the restrictions stipulated under the JCPOA will be automatically lifted," the top diplomat stated.
"We do not value the restrictions announced by the European Union. Under international law, Iran can cooperate and interact with any country that is willing to cooperate with it," he added.
European Union sanctions are set to expire on October 18 under a UN resolution that enshrined the JCPOA.
READ MORE: Official Says West in No Position to Comment on Iran's Defensive Power
In early September, Iranian Defense Minister Brigadier General Mohammad Reza Ashtiani said that all the weapon sanctions on Tehran will be lifted next month, adding that his country is ready to establish and expand military relations with all independent and allied states.
"The defense industries of Iran have reached a level of maturity and prosperity that can be a point of convergence and connection for defense, technical and technological ties with independent and neighboring states," the minister stated.
"The defense ministry designs and manufactures all kinds of equipment and arms needed by the country's Armed Forces in the air, sea and land fields, and all kinds of ballistic and cruise missiles, all kinds of drones, surface and subsurface vessels, cyber equipment, … by relying on local knowledge and technologies," Ashtiani affirmed.
He went on to say that the weapons and equipment of the Iranian defense industry have proven their effectiveness and decisiveness in the battle scenes, especially in the fight against terrorism, and many countries are seeking to develop their defense relations with Tehran.
The Islamic Republic's military doctrine holds that the country's armed capability solely serves defensive purposes.
Iranian military experts and technicians have in recent years made substantial headway in manufacturing a broad range of indigenous equipment, making the armed forces self-sufficient in the weaponry sphere.
Iranian officials have repeatedly stressed that the country will not hesitate to boost its military capabilities, including its missile and drone power, which are entirely meant for defense, and that Iran's defense capabilities will never be subject to negotiation.