Politics
2023-September-19  14:46
President Rayeesi: Era of Imposing Wills on Other Nations Ended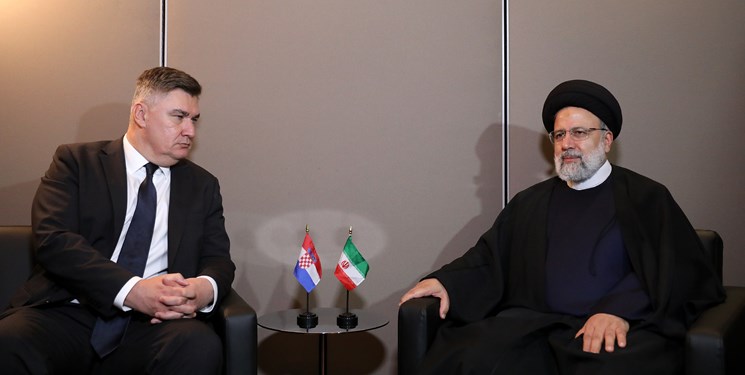 TEHRAN (FNA)- Iranian President Seyed Ebrahim Rayeesi underlined that the era has ended for certain countries for imposing their will on other nations.
President Rayeesi made the remarks in a meeting with Croatian President Zoran Milanovic on the sidelines of the annual UN General Assembly meeting in New York.
Rayeesi expressed Iran's interest in expanding political, economic, and trade relations with Croatia.
He highlighted Iran's resilience in the face of Western efforts to impose their values and interests, turning sanctions and pressures into opportunities for progress, particularly in technology.
The Iranian president questioned why nations with nuclear arsenals, such as the United States and some European countries, prevent other states from benefiting from peaceful nuclear energy.
He cited Iran's significant progress in agriculture, industry, and medicine through the use of peaceful nuclear energy, adding that this progress has enabled Iran to treat one million patients using radiopharmaceuticals.
Rayeesi also addressed the issue of Palestine, asserting that the votes of the people living in Palestine are the only solution to the Palestinian crisis.
On the other hand, Milanovic emphasized Croatia's independent foreign policy despite its membership in NATO and the European Union.
The Croatian president also ruled out the United States' withdrawal from the 2015 nuclear deal with Iran.
Heading a high-ranking delegation, Rayeesi arrived in John F. Kennedy International Airport, New York, on Monday and was welcomed by Amir Saeed Iravani, Iran's Ambassador and Permanent Representative to the United Nations and a number of Iranian diplomats.
The 78th UNGA session will take place on September 18-26. The presence of high-ranking officials from different countries at the annual event provides a good opportunity for international political consultations and bilateral dialogues.