World
2023-September-19  17:41
Leading Economists Warn UK Flatlining Economy Will Grow Slower, Suffer Higher Inflation Than Eurozone in 2023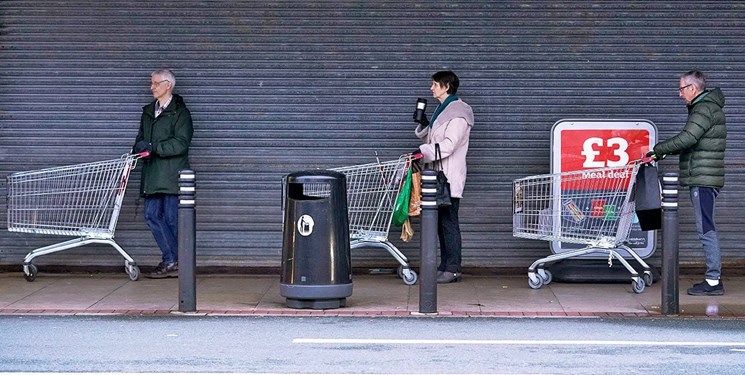 TEHRAN (FNA)- Britain's flatlining economy will grow more slowly and suffer higher inflation than the Eurozone this year, leading economists warned on Tuesday.
The Organisation for Economic Co-operation and Development upgraded its GDP growth forecast for 2023 from zero in June to 0.3 percent, The Evening Standard reported.
But this was still behind the 0.6 percent predicted rise for the eurozone, where there were stark divisions with Germany's economy set to shrink by 0.2 percent, France to grow by one percent, and Spain by 2.3 percent.
The UK's economy was forecast to grow by 0.8 percent next year, still below the 1.1 percent for the Eurozone.
However, looking back to 2022, the UK had the biggest growth spurt of 4.1 percent of leading wealthy nations, after its sharp COVID slump.
Last year, the UK saw inflation average at 9.1 percent over the year, with a peak of 11.1 percent.
On Tuesday, the OECD said it expects UK inflation of 7.2 percent for 2023, increasing its previous forecast of 6.9 percent from June.
This would be the fastest rate across the G7 (US, UK, Canada, Japan, France, Germany and Italy) and third fastest across the G20.
High inflation has hit the budgets of millions of people across Britain in the cost-of-living crisis.
Chancellor Jeremy Hunt said, "Today the OECD have set out a challenging global picture, but it is good news that they expect UK inflation to drop below three percent next year."
"It is only by halving inflation that we can deliver higher growth and living standards. We were among the fastest in the G7 to recover from the pandemic, and the IMF have said we will grow faster than Germany, France, and Italy in the long term," he added.
But Shadow Treasury Minister Darren Jones said, "Businesses and workers across the country deserve better, which is why Labour has a plan for the economy to boost growth, increase wages and bring down bills so working people are better off."
Liberal Democrat Treasury Spokesperson Sarah Olney added, "This damning report shows that under the Conservatives, the UK economy is stuck in the slow lane."
"We've had zero apology from Liz Truss for trashing the economy, and now zero plan from Rishi Sunak to fix it," she added.