World
2023-September-20  17:00
Survey: Americans' Support for UAW Strike Ticks Upward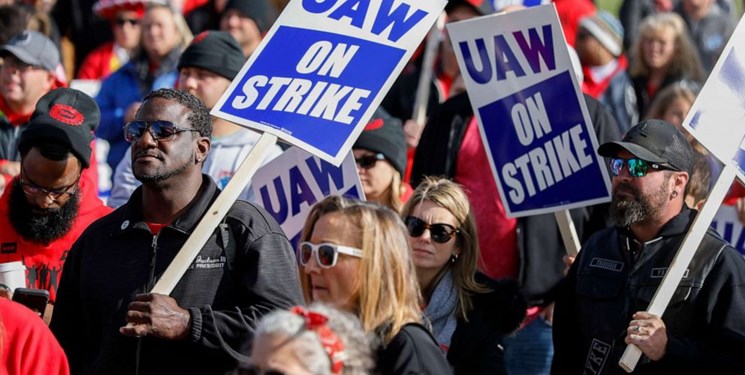 TEHRAN (FNA)- Americans' support for the United Auto Workers (UAW) union's strike against Ford, General Motors and Stellantis has ticked upward since workers walked out Friday, according to a new survey.
The new poll from Morning Consult found that 54 percent of U.S. adults said they support the strike against the so-called Big Three automakers, up from 51 percent in a poll conducted prior to the strike last week, The Hill reported.
The share of Americans who said they were unsure about the strike also rose slightly from 26 percent to 28 percent, while the portion who said they oppose the strike fell from 23 percent to 18 percent.
Americans also reported being more aware of and more concerned about the UAW strike in the latest survey. Fifty-four percent said they had heard "a lot" or "some" about the strike, and 49 percent said they were concerned about the standoff between the union and the auto giants.
Both numbers represent a significant jump from last week's poll, in which 42 percent said they had heard about the strike and 39 percent said they were concerned.
However, despite a boost in support for the strike overall, support for UAW's various demands has fallen. 
Forty-nine percent of US adults in the new poll said they support the union's request for a 40 percent pay raise over the next four years, down from 53 percent a week earlier. Support for UAW's demand for a shortened workweek similarly fell from 46 percent to 41 percent between the two surveys.
The union launched its strike against the Big Three automakers early last Friday, calling on workers at plants near St. Louis, Mo., outside Detroit, Mich., and in Toledo, Ohio, to walk out.
UAW President Shawn Fain warned on Tuesday that more workers would be directed to walk out this Friday at noon if no "serious progress" has been made on negotiating a contract.
The latest Morning Consult survey was conducted September 16-17 with 2,200 US adults and had a margin of error of 2 percentage points.