Politics
2023-September-21  11:40
Iran Welcomes Nagorno-Karabakh Truce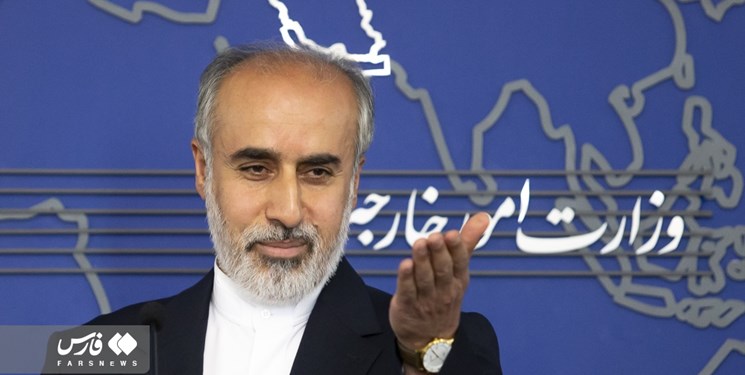 TEHRAN (FNA)- Iranian Foreign Ministry Spokesman Nasser Kana'ani acclaimed a ceasefire in Nagorno-Karabakh between Azerbaijan and Armenia-backed separatists after 24-hours of hostilities.
Azerbaijan launched "counter-terrorism measures of a local nature" in Nagorno-Karabakh on Tuesday, accusing Armenia of amassing troops in the disputed region. Yerevan has denied fielding any troops in the area, which is de jure considered to be part of Azerbaijan.
Armenia accused its neighbor of starting "another large-scale aggression against the people of Nagorno-Karabakh", and alleged Baku is seeking to subject the region, predominantly populated by ethnic Armenians, to "ethnic cleansing".
On Wednesday, authorities in Nagorno-Karabakh agreed to the terms of a ceasefire proposed by Russian peacekeepers, after suffering a series of battlefield setbacks at the hands of the Azerbaijani troops.
Kana'ani on Wednesday expressed delight on the part of Iran over emergence of the agreement, urging that the two sides focus on resolving their dispute based on "dialog and peaceful mechanisms" within the framework on Azerbaijan's territorial integrity.
War brings along no result other than ruination and spreading hatred and endangers the region's stability and security, he added.
Hailing the deal, the spokesperson said there existed no more reason for prolongation of hostilities in the region, and hoped that the region would not witness anymore warfare.
"The Islamic Republic demands complete respect for the territorial integrity and recognized international borders of the regional countries, and is of the opinion that the rights and security of the residents of Karabakh should be provided within the same framework," Kana'ani stated.
He voiced Tehran's readiness to contribute to relevant sustainable peace processes, and asserted that intervention by third parties in the region would only complicate existing issues and jeopardizes standing agreements.
Nagorno-Karabakh is internationally recognized as part of Azerbaijan but has been populated by ethnic Armenians.
The two Caucasian nations have been embroiled in a conflict over Nagorno-Karabakh since the late 1980s, when the predominantly ethnic Armenian region moved to break away from Azerbaijan and join Armenia. With the Soviet Union on the verge of collapse, tensions erupted into a major war in the early 1990s that claimed thousands of lives. The fighting ended with the signing of a ceasefire in 1994, although fighting has broken out sporadically since. 
One of the bloodiest clashes – which is often referred to as the Second Nagorno-Karabakh War – took place in 2020 and resulted in Azerbaijan taking control of a significant amount of territory. The hostilities ended in a Russia-mediated ceasefire. Since the truce, the two sides have accused each other of breaching the peace deal.
Earlier this year, however, both sides signaled a readiness to end the long-running territorial dispute.
Iranian officials have repeatedly stressed Tehran's opposition to geopolitical changes in the region, and reaffirmed the country is ready to use all its capacities to establish peace in the Caucasus region and its growth and development.