Politics
2023-September-24  10:04
Iran Announces Readiness to Sign Strategic Cooperation Deal with Saudi Arabia Amid Warming Relations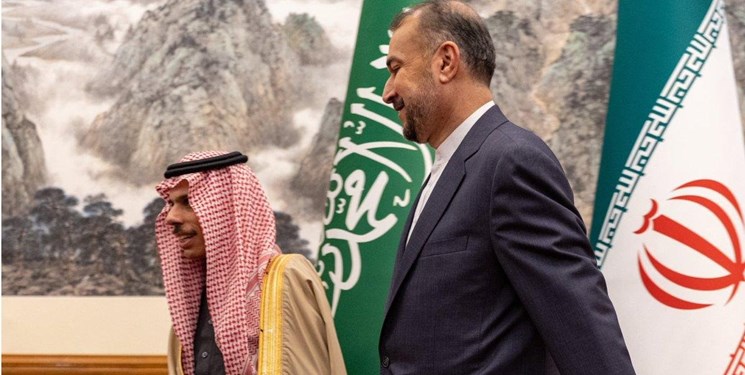 TEHRAN (FNA)- Iranian Foreign Minister Hossein Amir Abdollahian met once again with his Saudi counterpart Prince Faisal bin Farhan, and said Tehran is ready to sign a comprehensive partnership agreement with Riyadh.
The meeting between ranking Iranian and Saudi diplomat was held on Saturday in New York on the sidelines of a United Nations General Assembly meeting. It was the fifth time since a rapprochement between Tehran and Riyadh was announced in March.
Amir Abdollahian and bin Farhan discussed issues of mutual interest, including bilateral ties and regional developments, during the meeting held at the office of Saudi Arabia's Permanent Mission to the United Nations.
The two diplomats expressed satisfaction with the reopening of embassies and the exchange of ambassadors in Tehran and Riyadh.
The Iranian minister said that Tehran is prepared to organize and ink a comprehensive cooperation document with Saudi Arabia, building up on the ideas exchanged during his meeting with Saudi Crown Prince Mohammed bin Salman in August.
He also put a premium on the establishment of a Joint Economic Commission to expand economic and trade relations between the two countries.
Amir Abdollahian also stressed the need to activate air and sea transportation routes to facilitate travel and trade between the two countries.
Bin Farhan, for his part, expressed satisfaction with the speed at bilateral relations have progressed since rapprochement in March, and stated Riyadh was eager to strengthen bilateral cooperation with Tehran. 
READ MORE: Ambassador Says Iran Considers Saudi Arabia as Strategic Partner
On March 10, after several days of intensive negotiations hosted by Beijing, Iran, and Saudi Arabia agreed to end a diplomatic rift, restore diplomatic relations and reopen embassies after seven years of tensions
In a joint statement after signing the deal, Tehran and Riyadh highlighted the need to respect each others' national sovereignty and refrain from interfering in the internal affairs of one another.
Back in early June, Tehran officially reopened its embassy in Riyadh. The Saudi embassy in the Iranian capital has been also resuming work since early August.
Ahead of Tehran's new envoy to Riyadh Alireza Enayati's departure for the Kingdom, Iranian President Seyed Ebrahim Rayeesi termed his country and Saudi Arabia as two influential countries in West Asia and the Muslim world.
He called for Riyadh and Tehran to use all their potentials to enhance the bilateral relations.
"Collaboration between Iran and Saudi Arabia, as well as increased regional cooperation at bilateral and multilateral levels, particularly in issues concerning the Islamic world ... will enhance the standing of regional countries," the president stressed.