Politics
2023-September-24  12:00
Iranian FM: No Difference Between Biden, Trump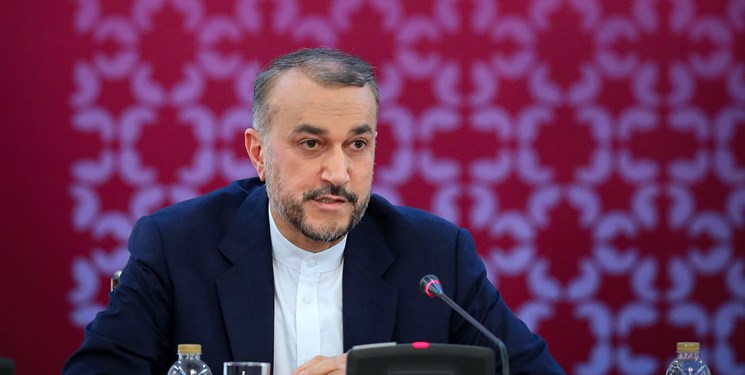 TEHRAN (FNA)- Iranian Foreign Minister Hossein Amir Abdollahian deplored Washington's addiction to sanctions, and further slammed US President Joe Biden for continuing his predecessor Donald Trump's policy on Tehran.
The top diplomat made the remarks in a meeting with a number of American experts, ambassadors and retired politicians in New York on the sidelines of the 78th session of the United Nations General Assembly on Saturday.
Amir Abdollahian stated that the 2015 nuclear deal can be revived and its parties will return to full compliance with their commitments if the US administration shows seriousness.
He stressed Tehran's policy is to return to the agreement, formally known as the Joint Comprehensive Plan of Action (JCPOA). However, he added, Washington is "playing with time".
The minister further criticized the US administration for pursuing a contradictory approach to Iran with "fundamental" differences in what the White House practices and what it preaches, stressing Tehran pays heed to Washington's attitude and not its words.
He rapped the Biden administration's continuation of the sanctions policy against Iran, saying, "Even simultaneous with the implementation of the recent agreement [with Tehran] on exchange of prisoners, the US administration carried out unconstructive sanctions measures and proved that it is not willing to correct its past wrong and ineffective behavior."
The White House has always made a miscalculation in dealing with Tehran, including its support for last year's riots in Iran, Amir Abdollahian added.
READ MORE: FM Says Iran Ready to Resume JCPOA Revival Talks Based on September Document
The US, under Trump, unilaterally withdrew participation in the nuclear deal and re-imposed sanctions against Iran, which the 2015 agreement had lifted.
The Trump administration subsequently launched what it touted as a campaign of "maximum pressure" against Iran, hoping to force Tehran to accept large-scale limits on its nuclear program and missile work, among other things.
The Biden administration has verbally renounced that policy and admitted to its failure, while expressing a willingness to return to the Iran deal. However, it has so far stopped short of taking any concrete steps to that end and retained the sanctions on Tehran.
Iranian officials say the Biden administration has not changed the policies of Trump towards Tehran, and lash out at the European states for lack of a serious approach towards negotiations like the US.
Tehran says the US sanctions policy against Iran is a failed and ineffective policy and only indicates Washington's addiction to sanctions.
Iran stresses despite the admission of American officials that the policy of sanctions and maximum pressure has failed, the continuation of the policy is the result of the continued confusion among some officials in Washington with regard to Tehran.