Politics
2023-September-26  10:59
Iran's Military Chief: Fingers on Triggers to Instantly Counter Enemies' Threats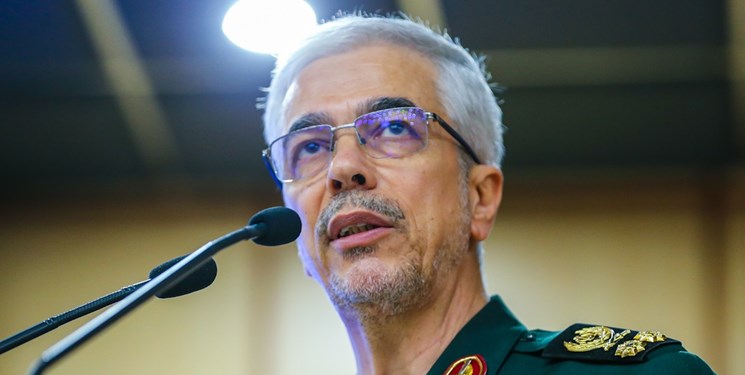 TEHRAN (FNA)- Chief of Staff of the Iranian Armed Forces Major General Mohammad Baqeri said that the Iranian forces are fully ready to confront the enemies' threats, and further assured that no enemy dares to conduct a military operation against Tehran, thanks to the country's deterrence power and high military preparedness.
Maj. Gen. Baqeri stated on Monday the Iranian Armed Forces have set up a unified body to establish security and stability in the country.
"State of readiness is a familiar concept for our armed personnel. That is, every moment we have our hands on the trigger and our eyes on the radar screen, along with surveillance and intelligence equipment so that no conspiracy is organized against the country and the enemies do not wish to launch an aggression and undermine our security," he added .
During a ceremony near the city of Qom, he noted that today the enemies do not dare invade Iran and even do not think about it due to the power of the armed forces.
The military chief further emphasized that Iranian forces stand selflessly on all battlefields and fight hoping to be martyred.
"We pledge not to compromise with the enemies of Islam and stand against them, as well as continue the path of our martyrs, defend the disadvantaged and the oppressed, and move with all our might in the invaluable path of the 2nd Phase of the Islamic Revolution devised by Leader of the Islamic Revolution," he added, referring to the national roadmap for the second forty years of the 1979 revolution drawn by Supreme Leader of the Islamic Revolution Ayatollah Seyed Ali Khamenei.
Iranian officials have repeatedly warned the enemies that they will receive a crushing and decisive response if they commit a foolish act against Tehran.
"If the enemies put a foot wrong and commit a foolish or mischievous act against Iran's holy Islamic establishment, they will receive a decisive response from the Army's ground forces," Commander of the Iranian Army's Ground Force Brigadier General Kioumars Heidari asserted on Monday.
"If the enemies attack Iran from the air, they will definitely have no place to sit on the ground, and if they attack Iran from the ground, we will annihilate them within seconds by God's grace," he stressed.
Military officials have warned that any mistake by the US and Israel will be met with Tehran's firm response. 
Iranian officials say Washington and Tel Aviv are well aware of Tehran's capabilities and capacities, and caution that Tehran does not compromise or joke with its national security. They stress the Iranian Armed Forces' deterrent power dissuades the United States and Israel from implementing its threats against the country.