World
2023-September-30  12:03
Poll: US Supreme Court Approval Rating Mired Near Record Low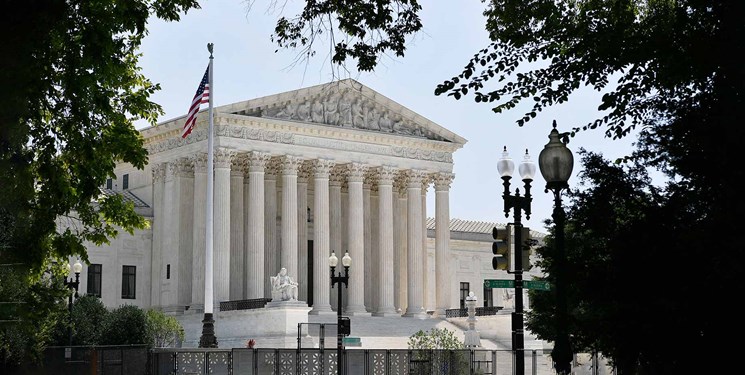 TEHRAN (FNA)- The Supreme Court's approval rating is mired in a near-record low, according to a new survey.


With the Supreme Court set to begin its new term next week, the Gallup poll found Americans tend to view the court in a negative light, The Hill reported.
The court's approval rating fell to its lowest point in September 2021 after it declined to block a controversial Texas abortion law, which later led to the 2022 decision in Dobbs v. Jackson Women's Health Organization and the overturning of Roe v. Wade.
"With the Supreme Court preparing to begin a new term, Americans' approval of the high court and their trust in it remain near their historically lowest points, and the public is divided over whether its ideology is about right or too conservative," the report said.
Currently, 41 percent of respondents approve of how the Supreme Court is handling its job, which remains near levels seen over the past two years. Fifty-eight percent disapprove of how the court is handling its job, the latest survey found.
Forty-nine percent of respondents say they have trust in the judicial branch, up from a record low of 47 percent a year ago. According to Gallup, trust in the Supreme Court averaged 68 percent before 2022.
In 2022, a record 42 percent of respondents said the court was "too conservative". It was the first time since 1993 that a majority of Americans didn't deem the court "about right", the survey giant noted. Now, 42 percent say it's "about right", while 39 percent see it as too conservative and 17 percent see it as too liberal.
Currently, 23 percent of Democrats approve of the job the Supreme Court is doing, while 56 percent of Republicans approve. Forty percent of independents said they approve.
"Given Democrats' widespread belief that the Supreme Court is too conservative, their low approval rating of the court is not surprising," Gallup reported in its release, adding, "Their approval rating of the court fell 25 percentage points to 25% after the Dobbs decision and dropped further to a new low of 17% two months ago, but has risen slightly to 23% in the latest poll."
The survey of 1,016 adults, conducted September 1-23, has a margin of error of 4 percentage points.
The Supreme Court will begin its next term on Monday, October 2. It has a 6-3 conservative majority and plans to hear six cases in its first week back.