Society_Culture
2023-October-12  10:29
Iranian Medical Academy Blames UN-Affiliated Organizations for Keeping Mum on Israel's Crimes Against Palestinians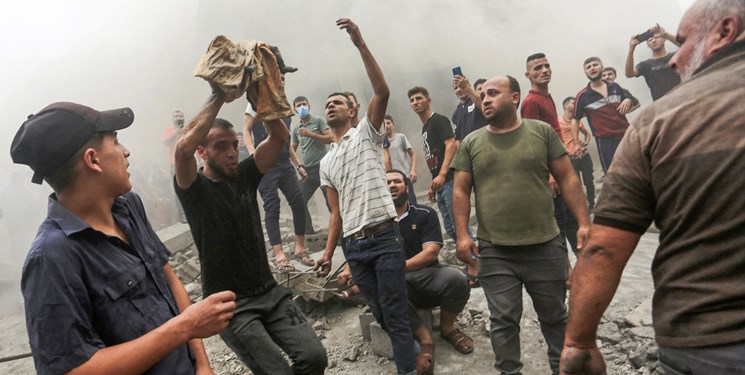 TEHRAN (FNA)- President of the Academy of Medical Sciences of the Islamic Republic of Iran Dr. Alireza Marandi strongly condemned Israel's decision to lay total siege on the Gaza Strip amid heavy bombardment, and blasted the Western controlled human rights bodies for their silence over Tel Aviv's atrocities towards Palestinians.
In a letter addressed to United Nations Secretary General Antonio Guterres, Dr. Marandi deplored world's inaction over the Israel's brutality against Palestinians.
"In a criminal and unprecedented act, the colonial apartheid regime has ordered the complete siege of Gaza. It has cut off all water and electricity supply as well as the entry of food and medicine into Gaza," he said. 
"Meanwhile, under these extreme circumstances, defenseless Palestinian women and children have been massacred through the relentless carpet bombing of residential buildings," Marandi, who formerly served as health minister, added.
Israel has in recent days carried out heavy bombardment across the besieged enclave, killing more than 1,000 Palestinians, including hundreds of children, and wounding over 5,000 others. Israeli Defense Ministry Yoav Gallant has also ordered a "complete siege" of Gaza, saying he would halt its supply of electricity, food, water and fuel.
Marandi stressed that "this criminal behavior" is taking place amidst "the silence of Western controlled human rights organizations, especially those affiliated to the United Nations".
The health official called on the UN Secretary General to fulfill his "legally and morally" responsibility and provide "a safe path for the transfer of medical assistance and the treatment of a defenseless and oppressed Palestinian population".
"It is obvious that your response to these barbaric crimes of the Israeli regime will be recorded in history," the president of Iran's Academy of Medical Sciences wrote.
Gaza is one of the most densely populated places on Earth, where some 2 million people live in an area of 140 square miles. It has been almost completely cut off from the rest of the world for nearly 17 years. More than half of its population lives in poverty and is food insecure, with nearly 80% of its population relying on humanitarian assistance.
With conditions deteriorating amid Israel's aerial assault, a humanitarian crisis has already begun to unfold in the enclave.
The sole power plant in the Gaza Strip shut down Wednesday after it ran out of fuel. And the Palestinian Health Ministry in Gaza announced that fuel used to operate generators in Gaza's hospitals will run out on Thursday, warning the lack of power could lead to "catastrophic" conditions.
Tehran says the history of the apartheid regime is full of assassinations, massacre, torture and killing of Palestinian kids, and described Tel Aviv regime's atrocities and massacre of Palestinian women and children as indicative of the destitute of Zionists. Iranian officials say the Tel Aviv regime has been struggling for more than 70 years to exit its identity crisis which has been mixed with genocide, plunder, forced displacement and scores of other inhumane moves.