Politics
2023-October-22  10:16
Iran Strongly Opposes Monopolizing Outer Space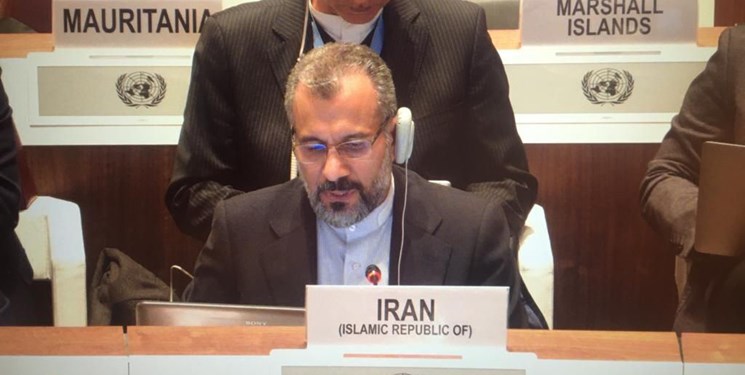 TEHRAN (FNA)- Director General of Foreign Ministry's International Peace and Security Office Asadollah Eshraq Jahromi voiced Iran's strong opposition to monopolizing outer space.
"Iran strongly advocates against monopolizing outer space or attempting to curtail the peaceful use of space-related science, technology, and services for developing countries," Eshraq Jahromi said addressing the Debate on Disarmament Aspects of Outer Space Exposes First Committee Rift over Ways to Sustain Space Security, Prevent Domain's Weaponization.
He expressed solidarity with Palestine during these trying times and vehemently denounced barbaric atrocities and heinous crimes committed by the Zionist regime.
"Iran is deeply troubled by the security risks posed by the deployment of strategic missile defense systems, reiterating the need for a non-discriminatory multilateral approach to address these issues within the United Nations," he said.
Turning to the establishment of a new group of governmental experts on the prevention of an arms race in outer space, he said its success hinges on avoiding the entrenchment of politicized positions among its members
Eshraq Jahromi called on the United States to withdraw its opposition to the establishment of a special negotiating committee under the prevention of an arms race in outer space while noting sanctions imposed by the United States against Iranian space agencies.
Iran has taken giant strides in the field of science and technology in recent years, despite US sanctions, and is among the world's top 10 states capable of building and launching satellites.
Back in late August, Iranian Defense Minister Brigadier General Mohammad Reza Ashtiani stated Tehran plans to launch two or three satellites by the end of the Iranian calendar year (ending in mid-March 2024).
Iran launched its first satellite Omid (Hope) in 2009 and its Rasad (Observation) satellite was sent into orbit in 2011. In 2012, Iran successfully put its third domestically-made satellite, Navid (Good News), into orbit. In April 2020, the country announced the successful launched of its first military satellite into orbit. In March 2022, it blasted its second military satellite into space. And in August 2022, Iran sent Khayyam, a high-resolution imaging satellite, into orbit.
Iranian officials have repeatedly stressed Tehran's serious determination to advance space technology.