Society_Culture
2023-October-25  18:44
Over 300 Academicians Urge UN Chief to End Mockery of Int'l Law by Israel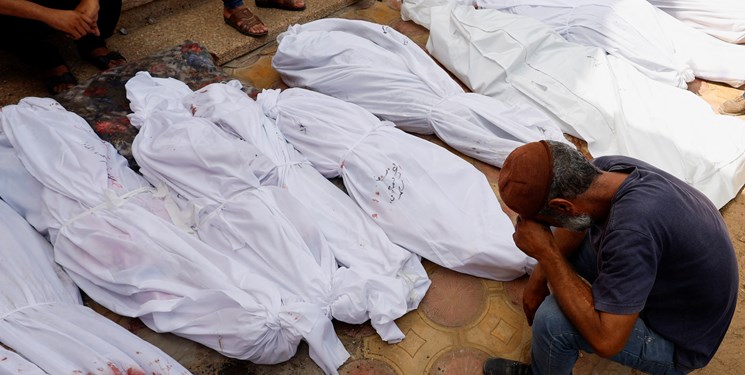 TEHRAN (FNA)- More than 300 well-known intellectuals penned a letter to UN Secretary General António Guterres, calling on the head of the world body to adopt measures to halt Israel's war crimes against Palestinians, including relentless bombardment of residential areas in the Gaza Strip, use of banned munitions and total blockade of the besieged enclave.
The academicians have asked for "the UN's urgent intervention" to bring about an end to "the war crimes and atrocities being carried out" by Israel in its "onslaught on Gaza and the West Bank".
The Palestinian Health Ministry announced on Wednesday more than 6,500 Palestinians, including over 2,700 children and nearly 1,600 women, have been killed in Gaza since Israel launched a relentless bombing campaign against the besieged territory, according to health officials.
"In the course of its assault on the densely populated Gaza Strip, Israel has wantonly violated international law by targeting civilian infrastructure. This has included residential buildings, schools, hospitals, ambulances, mosques, churches, supermarkets, roads full of fleeing people and food production plants," they wrote.
The Zionist regime has also directly targeted gatherings of civilians as it did on when it bombed the grounds of the Baptist Hospital (also known as Al-Ahli Hospital) in Gaza where displaced residents were seeking refuge and when it bombed a convoy carrying civilians to the South of Gaza last week.
At least 500 civilians, mainly women and children, were killed in an Israeli air raid on Al-Ahli Hospital in the Gaza city last Tuesday. The medical facility was sheltering thousands of displaced people when it was bombed.
"Israel has also used white phosphorus in Gaza and Lebanon, according to multiple human rights groups including Human Rights Watch. White phosphorous is unlawfully indiscriminate when airburst in populated urban areas, where it can burn down houses and cause egregious harm to civilians," the intellectuals added.
Israel is known to have repeatedly used white phosphorus munitions in the past. In 2006, the Israeli regime admitted to using these weapons during its months-long war with Hezbollah. In 2009, Israel acknowledged using "munitions containing white phosphorus" during an offensive in Gaza between December 2008 and January 2009.
As the UN's workers and officials have confirmed, the academicians said, "There are no safe places in Gaza."
"Gaza is under total siege and constant bombardment. The humanitarian situation for civilians is desperate with hospitals overflowing, medical equipment in short supply, electricity and water cut off by Israel and food supplies dwindling owing to the siege," they argued.
"It is abundantly clear that in abandoning the requirement to uphold the principles of proportionality and distinction between civilians and combatants, Israel is in gross violation of international law," they noted.
Citing an assessment by Marc Garlasco, a military adviser at the Dutch organization PAX for Peace and former UN war crimes investigator in Libya, the academicians wrote Israel is "dropping in less than a week what the US was dropping in Afghanistan in a year, in a much smaller, much more densely populated area, where mistakes are going to be magnified".
"In light of the war crimes currently being perpetrated on the people of Gaza what action do you intend to take to try and rein in the Israeli war machine? The UN was formed in the wake of World War 2 with the express purpose of upholding a rules based world order and to prevent a repeat of the horrors of that conflict. That being the case how much longer is the organization going to stand by and watch as a genocide unfolds before our very eyes?" They asked.
They urged Guterres "to rise to the need of the hour and spare no effort to help end this bloodbath by reining in Israel, establishing an immediate ceasefire and working to arrange the immediate delivery of humanitarian assistance to the Gaza Strip".
"Unless Israel is stopped and held accountable for the crimes it is currently committing in Gaza and the West Bank it will continue to kill and maim with impunity and to make a mockery of international law," they warned.
CC:
Francesca P. Albanese; Affiliate Scholar, Institute for the Study of International Migration, Georgetown University. Senior Adviser, Migration, Forced Displacement, Statelesness Arab Renaissance for Democracy and Development (ARDD) – (based in Tunisia). UN Special Rapporteur on the Human Rights Situation in the occupied Palestinian territory.
. Massoud Shadjareh; Chair of Islamic Human Rights Commission (IHRC), UK
. Prof. Jeff Halper; Director of Israeli Committee against House Demolitions (ICAHD), Jerusalem
. Prof. Hamid Algar; Department of Persian and Islamic Studies, University of California Berkeley, USA
. Prof. Richard Falk; Albert G. Milbank Professor of International Law, Emeritus, UK
. Prof. Ilan Pappe; Director of European Centre for Palestine Studies, University of Exeter, UK
. Prof. Haim Bresheeth; Professor of Film Studies, SOAS, and Author, UK
. Rabbi Yisroel Meir Hirsch; Neturei Karta, Quds, Palestine
. Prof. Gholamali Haddad Adel; President of the Academy of Persian Language & Literature, Permanent Member, Islamic Republic of Iran
. Prof. Seyed Mohammad Moghimi; President of University of Tehran, and President of the Summit for
the Presidents of Major Universities, Islamic Republic of Iran
. Prof. Ahmed M. H. Al-Ghaban; University of Technology, Baghdad, Iraq
. Prof. Saied Reza Ameli; Full Professor of Communications and North American Studies, University of Tehran, Islamic Republic of Iran
Africa
South Africa
1. Prof. Pearl Dastile; Walter Sisulu University, South Africa
America
Canada
2. Prof. Denis Rancourt; Former Full Professor at the University of Ottawa, Researcher at "CORRELATION -
Research in the Public Interest", Canada
3. Dr. Olsi Yazeji; Former professor at Universities in Elbasan and Durres, Albania-Canada
4. Zafar Bangash; Director of "Institute of Contemporary Islamic Thought", Canada
5. Eric Walberg; Geopolitical Analyst, Journalist at "Al-Ahram", Canada
Caribbean and South America
6. Prof. Maria Poumier; Former Professor at Sorbonne University (Paris 8) and current professor at
University of Havana, France
7. Pepe Escobar; Geopolitical Analyst, and Author, Brazil
8. Adrian Salbuchi; Geopolitical Analyst, Writer, and TV and Radio Host, Argentina
9. Prof. Guillermo Barreto, Instituto Simon Bolivar, Venezuela
10.Dr. Antonio Carmona Báez; Professor, University of St. Martin, Sint Maarten
11.Prof. Joseph Massad; Columbia University, Columbia
12.Dr. Carlos Carrillo; Master sociology, Peru
USA
13.Prof. Ramón Grosfoguel; University of California, Berkeley, USA
3
14.Imam Dawud Walid; Executive Director of the Michigan chapter of the Council on American-Islamic
Relations and senior fellow at Auburn Seminary, New York, USA
15.Ashook Ramsaran, President, Indian Diaspora Council International, USA
16.Dr. Abraham Ramírez; University of California at Berkeley, USA
17.Prof. Hatem Bazian; University of California at Berkeley, USA
18.Dr. Shirin Saeidi; Assistant Professor of Political Science and director of the King Fahd Center for Middle
East Studies; University of Arkansas, USA
19.Imam Al-Asi; Religious Scholar, USA
20.Prof. Paul Sheldon Foote; Professor Emeritus of accounting at California State University, Fullerton, USA
21.Prof. James H. Fetzer; McKnight Professor Emeritus at the philosophy of science at University of
Minnesota Duluth, USA
22.Prof. Kevin B. MacDonald; Professor Emeritus of Psychology at California State University, Long Beach, USA
23.Dr. Cynthia McKinney; A/Professor of North South University (Bangladesh), Former Rep. of Georgia for 6
terms, USA
24.Dr. Coleen Rowley; Former FBI Special Agent and Whistleblower, USA
25.Dr. Kevin Barrett; Former A/Professor of Islamic Studies at University of Wisconsin-Madison, USA
26.Dr. Michael Springmann; ex-Diplomat, former head of the American visa bureau in Jeddah (KSA), USA
27.Dr. Scott Bennett; Former Psychological Warfare Officer of Army, ex-State Dept. Contractor, USA
28.Cindy Sheehan; Anti-Aar Activist, "Peace Mom", USA
29.Merlin Miller; 2012 Presidential Candidate, Independent Film Director, Writer, and Producer, USA
30.Sander Hicks; Political Activist and Guitarist, USA
31.David Rovics; Songwriter and Singer, USA
32.Don DeBar; Independent Journalist, USA
33.Rabbi Weiss; Neturei Karta, USA
34.Cindy Sheehan; Anti-War Activist, Peace Activist, USA
35.Dr. Patrick Delices; Decolonial Scholar/Activist, USA
36.Caleb Maupin; "Center for Political Innovation", USA
Asia
Bangladesh
37.Dr. Cynthia McKinney; Professor of North South University, Bangladesh
Iran, Islamic Republic of
38.Prof. Mohammad Reza Mokhber; President of the Iranian Academy of Science, Islamic Republic of Iran
39.Prof. Alireza Marandi; President of the Iranian Academy of Medical Sciences, Islamic Republic of Iran
40.Prof. Gholamali Haddad Adel; President of the Iranian Academy of Persian Language and Literature,
Permanent member, Islamic Republic of Iran
41.Dr. Majid Shah Hosseini; President of the Iranian Academy of Arts, Islamic Republic of Iran
42.Dr. Mohammad Mehdi Tehranchi; president of the Islamic Azad University, Islamic Republic of Iran
43.Prof. Abdol Hossein Khosrow Panah; Secretary of the Supreme Council of the Cultural Revolution,
Islamic Republic of Iran
44.Prof. Seyed Mohammad Moghimi; President of University of Tehran, and President of the Summit for
the Presidents of Major Universities, Islamic Republic of Iran
45.Prof. Rasoul Jalili; President of Sharif University of Technology, Islamic Republic of Iran
46.Prof. Alireza Rahaei; President of Amirkabir University of Technology, Islamic Republic of Iran
47.Prof. Farhad Daneshjou; President of Tarbiat Modaress University, Islamic Republic of Iran
48.Prof. Seyed Mahmoudreza Aghamiri, President of Shahid Beheshti University, Islamic Republic of Iran
49.Prof. Amirreza Shahani, President of K. N. T. University of Technology, Islamic Republic of Iran
50.Prof. Mansour Anbiya, President of Iran University of Science and Technology, Islamic Republic of Iran
51.Prof. Zahra Nazem Bokaei; President of Alzahra University, Islamic Republic of Iran
52.Prof. Hossein Hersich; President of Isfahan University, Islamic Republic of Iran
4
53.Prof. Seyed Ali Mohammad Mirmohamadi Meibodi; President of Isfahan University of Technology,
Islamic Republic of Iran
54.Prof. Abdolah Motamedi; President of Alameh Tabatabaei University, Islamic Republic of Iran
55.Prof. Ahad Zaet; President of Ferdowsi University of Mashhad, Islamic Republic of Iran
56.Prof. Safar Nasroulahzadeh; President of Tabriz University, Islamic Republic of Iran
57.Prof. Mohammad Moazenu; President of Shiraz University, Islamic Republic of Iran
58.Prof. Saied Reza Ameli; Full Professor of Communications and North American Studies, University of
Tehran, Islamic Republic of Iran
59.Prof. Siavash Shahshahani, Professor of Mathematics (retired), Sharif University of Technology, Islamic
Republic of Iran
60.Prof. Elahe Elahi; Professor of Genetics (retired), University of Tehran, Islamic Republic of Iran
Iraq
61.Abdalmajde Mohamad Ahmad; Alimam, Iraq
62.Prof. Ali Salih Hussein; Al-Iraqia University, Iraq
63.Prof. Mazin Hasan Jasim Alhasany; Wasit University, Iraq
64.Prof. Sabah Allawi Al-Samarrai; University of Samarra, Iraq
65.Dr. Aqeel Majeed Khadhum; Hilla University College, Iraq
66.Abdulbasit Mohsin Ayyal; University of Misan, Iraq
67.Prof. Shafik S. Shafik; Al-Ayen Iraqi University, Iraq
68.Hassan Al-Awady; Al Qasim Green University, Iraq
69.Abdul Monem Abbas Karim; University of Diyala, Iraq
70.Waad M.Raoof; Tikrit University, Iraq
71.Prof. Abdulkareem H. Ismaeal; Mammon College University, Iraq
72.Prof. Mudhaffar Sadeq Al-Zuhairy; Alfurat Alawsat Technical University, Iraq
73.Prof. Rabee Hashim Thejel; Southern Technical University, Iraq
74.Prof. Mushtak Talib Salih Al-Neda; University of Anbar, Iraq
75.Yasir L. Hassoun Almansoori; University of Kufa, Iraq
76.Mohammed Hliyil Hafiz Alkaabi; Basrah University for Oil and Gas, Iraq
77.Prof. Imran Jamal Hassan; President of Kirkuk University, Iraq
78.Ibrahim Saeed Gataa; University of Warith Al-Anbiyaa, Iraq
79.Prof. Badir N. Albadran; Almaaqal University, Iraq
80.Prof. Qahtan Hadi Hussein; University of Babylon, Iraq
81.Prof. Ahmed M H Al-Ghaban; University of Technology Baghdad, Iraq
82.Basem k. Nayel; University of Kerbala, Iraq
83.Prof. Hameed Fadhill Al-Tamemy; Mustansiriyah University, Iraq
84.Anwar subhi abdulhussein; Gilgamesh Ahlyia University, Iraq
85.Hameed Alnajdi; Ahlulbyt University, Iraq
86.Prof. Nathera Hussein Alwan; Al-Zahrawi University College, Iraq
87.Prof. Muhammad Baqir Fakhrildin; Jaber Ibn Hayyan University for Medical and Pharmaceutical Sciences,
Iraq
88.Prof. Imad Ibrahim Dawood; Mazaya University College, Iraq
89.Dr. Ammar Al salami; The Islamic University, Iraq
90.Prof. Abbas Alshareefi; Ibnsina University for Medical and Pharmaceutical Sciences, Iraq
91.Prof. Kadhim Al-Majdi, Ashur University, Iraq
92.Prof. Yahya A. Alkhafaji; University of Thi-Qar
93.Sabah Ibrahim Hammadi; University of Fallujah, Iraq
94.Abbas M Al-Bakry; University of Information Technology and Communications, Iraq
95.Prof. Aqeel Sarhan Mohammed; Uninversity of Sawa, Iraq
96.Prof. Ahmed Abdulmalik; Almaarif University College, Iraq
Malaysia
5
97.YAB Dato' Seri Anwar Bin Ibrahim; Member of the Malaysian Parliament, Malaysia
98.YAB Dato' Seri Dr. Ahmad Zahid Bin Hamidi; Member of the Malaysian Parliament, Malaysia
99.YAB Dato' Sri Haji Fadillah Bin Haji Yusof; Member of the Malaysian Parliament, Malaysia
100. YB Tuan Loke Siew Fook; Member of the Malaysian Parliament, Malaysia
101. YB Datuk Seri Haji Mohamad Bin Sabu; Member of the Malaysian Parliament, Malaysia
102. YB Tuan Mohd Rafizi Bin Ramli; Member of the Malaysian Parliament, Malaysia
103. YB Tuan Nga Kor Ming; Member of the Malaysian Parliament, Malaysia
104. YB Dato' Seri Utama Haji Mohamad Bin Haji Hasan; Member of the Malaysian Parliament, Malaysia
105. YB Dato Sri Alexander Nanta Linggi; Member of the Malaysian Parliament, Malaysia
106. YB Dato' Seri Mohamed Khaled Bin Nordin; Member of the Malaysian Parliament, Malaysia
107. YB Tuan Chang Lih Kang; Member of the Malaysian Parliament, Malaysia
108. YB Dato' Sri Hajah Nancy Binti Shukri; Member of the Malaysian Parliament, Malaysia
109. YB Dato' Sri Azalina Binti Othman Said; Member of the Malaysian Parliament, Malaysia
110. YB Tuan Nik Nazmi Bin Nik Ahmad; Member of the Malaysian Parliament, Malaysia
111. YB Datuk Ewon Benedick; Member of the Malaysian Parliament, Malaysia
112. YB Dato Sri Tiong King Sing; Member of the Malaysian Parliament, Malaysia
113. YB Tuan Ahmad Fahmi Bin Mohamed Fadzil; Member of the Malaysian Parliament, Malaysia
114. YB Puan Fadhlina Binti Sidek; Member of the Malaysian Parliament, Malaysia
115. YB Datuk Aaron Ago Anak Dagang; Member of the Malaysian Parliament, Malaysia
116. YB Puan Yeoh Tseow Suan; Member of the Malaysian Parliament, Malaysia
117. YB Tuan Sivakumar A/L Varatharaju Naidu; Member of the Malaysian Parliament, Malaysia
118. YB Dr. Zaliha Binti Mustafa; Member of the Malaysian Parliament, Malaysia
119. YB Datuk Armizan Bin Mohd Ali; Member of the Malaysian Parliament, Malaysia
120. YB Datuk Seri Haji Ahmad Bin Haji Maslan; Member of the Malaysian Parliament, Malaysia
121. YB Tuan Sim Chee Keong; Member of the Malaysian Parliament, Malaysia
122. YB Datuk Hajah Rubiah Binti Wang; Member of the Malaysian Parliament, Malaysia
123. YB Datuk Siti Aminah Binti Aching; Member of the Malaysian Parliament, Malaysia
124. YB Datuk Haji Hasbi Bin Haji Habibollah; Member of the Malaysian Parliament, Malaysia
125. YB Tuan Chan Foong Hin; Member of the Malaysian Parliament, Malaysia
126. YB Dato Hajjah Hanifah Hajar Taib; Member of the Malaysian Parliament, Malaysia
127. YB Tuan Haji Akmal Nasrullah Bin Mohd Nasir; Member of the Malaysian Parliament, Malaysia
128. YB Tuan Adly Bin Zahari; Member of the Malaysian Parliament, Malaysia
129. YB Dato' Sri Abdul Rahman Bin Haji Mohamad; Member of the Malaysian Parliament, Malaysia
130. YB Datuk Seri DR. Shamsul Anuar Bin Haji Nasarah; Member of the Malaysian Parliament, Malaysia
131. YB Tuan Liew Chin Tong; Member of the Malaysian Parliament, Malaysia
132. YB Dato' Mohammad Yusof Bin Apdal; Member of the Malaysian Parliament, Malaysia
133. YB Datuk Arthur Joseph Kurup; Member of the Malaysian Parliament, Malaysia
134. YB Datuk Hajah Raj Munni binti Sabu; Member of the Malaysian Parliament, Malaysia
135. YB Tuan Ramkarpal Singh A/L Karpal Singh; Member of the Malaysian Parliament, Malaysia
136. YB Dato' Sri Huang Tiong Sii; Member of the Malaysian Parliament, Malaysia
137. YB Datuk Mohamad Bin Alamin; Member of the Malaysian Parliament, Malaysia
138. YB Tuan Khairul Firdaus Bin Akbar Khan; Member of the Malaysian Parliament, Malaysia
139. YB Puan Teo Nie Ching; Member of the Malaysian Parliament, Malaysia
140. YB Puan Lim Hui Ying; Member of the Malaysian Parliament, Malaysia
141. YB Tuan Adam Adli Bin Abd Halim; Member of the Malaysian Parliament, Malaysia
142. YB Datuk Ts. Mustapha Sakmud; Member of the Malaysian Parliament, Malaysia
143. YB Dato Lukanisman Bin Awang Sauni; Member of the Malaysian Parliament, Malaysia
144. YB Datuk Ugak Anak Kumbong; Member of the Malaysian Parliament, Malaysia
145. YB Dr. Mohammed Taufiq Bin Johari; Member of the Malaysian Parliament, Malaysia
146. YB Tuan Lim Guan Eng; Member of the Malaysian Parliament, Malaysia
147. YB Tuan Chow Kon Yeow; Member of the Malaysian Parliament, Malaysia
148. YB Puan Syerleena binti Abdul Rashid; Member of the Malaysian Parliament, Malaysia
6
149. YB Tuan Sanisvara Nethaji Rayer A/L Rajaji; Member of the Malaysian Parliament, Malaysia
150. YB Tuan Sim Tze Tzin; Member of the Malaysian Parliament, Malaysia
151. YB Dato' Muhammad Bakhtiar Bin Wan Chik; Member of the Malaysian Parliament, Malaysia
152. YB Tuan Wong Kah Woh; Member of the Malaysian Parliament, Malaysia
153. YB Tuan Kesavan A/L Subramaniam; Member of the Malaysian Parliament, Malaysia
154. YB Tuan Lee Chuan How; Member of the Malaysian Parliament, Malaysia
155. YB Tuan M.Kulasegaran A/L V.Murugeson; Member of the Malaysian Parliament, Malaysia
156. YB Dato' Ngeh Koo Ham; Member of the Malaysian Parliament, Malaysia
157. YB Tuan Chong Zhemin; Member of the Malaysian Parliament, Malaysia
158. YB Tuan Tan Kar Hing; Member of the Malaysian Parliament, Malaysia
159. YB Tuan Chow Yu Hui; Member of the Malaysian Parliament, Malaysia
160. YB Puan Young Syefura Binti Othman; Member of the Malaysian Parliament, Malaysia
161. YB Datuk Seri Dr. Dzulkefly Bin Ahmad; Member of the Malaysian Parliament, Malaysia
162. YB Tuan William Leong Jee Keen; Member of the Malaysian Parliament, Malaysia
163. YB Dato' Seri Amirudin Bin Shari; Member of the Malaysian Parliament, Malaysia
164. YB Puan Hajah Rodziah Binti Ismail; Member of the Malaysian Parliament, Malaysia
165. YB Tuan Mohd Sany Bin Hamzan; Member of the Malaysian Parliament, Malaysia
166. YB Tuan Syahredzan Bin Johan; Member of the Malaysian Parliament, Malaysia
167. YB Puan Yeo Bee Yin; Member of the Malaysian Parliament, Malaysia
168. YB Tuan Wong Chen; Member of the Malaysian Parliament, Malaysia
169. YB Tuan Lee Chean Chung; Member of the Malaysian Parliament, Malaysia
170. YB Tuan Gobind Singh Deo; Member of the Malaysian Parliament, Malaysia
171. YB Dato' Ramanan Ramakrishnan; Member of the Malaysian Parliament, Malaysia
172. YB Tuan Haji Azli Bin Yusof; Member of the Malaysian Parliament, Malaysia
173. YB Tuan Ganabatirau A/L Veraman; Member of the Malaysian Parliament, Malaysia
174. YB Tuan Lim Lip Eng; Member of the Malaysian Parliament, Malaysia
175. YB Tuan Prabakaran A/L M Parameswaran; Member of the Malaysian Parliament, Malaysia
176. YB Tuan Ts. Zahir Bin Hassan; Member of the Malaysian Parliament, Malaysia
177. YB Tuan Fong Kui Lun; Member of the Malaysian Parliament, Malaysia
178. YB Puan Teresa Kok Suh Sim; Member of the Malaysian Parliament, Malaysia
179. YB Tuan Tan Kok Wai; Member of the Malaysian Parliament, Malaysia
180. YB Dato' Seri Dr. Wan Azizah Binti Wan Ismail; Member of the Malaysian Parliament, Malaysia
181. YB Tuan Cha Kee Chin; Member of the Malaysian Parliament, Malaysia
182. YB Dato' Seri Aminuddin Bin Harun; Member of the Malaysian Parliament, Malaysia
183. YB Tuan Khoo Poay Tiong; Member of the Malaysian Parliament, Malaysia
184. YB Tuan Yuneswaran A/L Ramaraj; Member of the Malaysian Parliament, Malaysia
185. YB Tuan Pang Hok Liong; Member of the Malaysian Parliament, Malaysia
186. YB Tuan Syed Ibrahim Bin Syed Noh; Member of the Malaysian Parliament, Malaysia
187. YB Tuan Tan Hong Pin; Member of the Malaysian Parliament, Malaysia
188. YB Tuan Haji Aminolhuda Bin Hassan; Member of the Malaysian Parliament, Malaysia
189. YB Tuan Haji Onn Bin Abu Bakar; Member of the Malaysian Parliament, Malaysia
190. Samsul Kamal Idris; Sec. Assoc for Muslim Minority Advocacy and Research, Malaysia
191. Datin Aminah Zakaria; Chair SALIMAH, Malaysia
192. Mohammad Faisal Abdul Aziz; President ABIM, Malaysia
193. Ahmad Farhan Rosli; President PKPIM, Malaysia
194. Norma Hashim; Hashim Sani Centre for Palestine Studies, University of Malaya and author, Malaysia
195. Prof. Nazari Ismail; University of Malaya, Malaysia
196. Mohideeen Abdul Kader, Malaysia
197. Mohd Azmi Abdul Hamid, President MAPIM, Malaysia
198. Dato' Seri Ahmad Awang, Chairman Alliance of World Masjid in Defence of Al Aqsa, Malaysia
199. Dato' Wira Abdul Ghani Samsudin, Chairman Secretariate for Assembly of Ulama Asia, Malaysia
7
Pakistan
200. Kazim Mesam; Ex Agriculture Minister and current leader of opposition in GB Assembly, Pakistan
201. Senator Nayyar Hussain Bukhari; Former Chairman of the senate of Pakistan, Senator from Islamabad
and senior leader of PPP, Pakistan
202. Senator Sehar Kamran (TI); Member senate of Pakistan (2012-2018), Politician, Educationalist and
Philanthropist, awarded Medal of Excellence "Tamgha-e-Imtiaz"one of highest National Civil Awards
of Pakistan, Pakistan
203. MPA Muhammad Kazim Maisam; Agriculture minister and leader of opposition in GB assembly,
Pakistan
204. MNA Syed Nasir Hussain Shah; Ex Minister local government, housing and town planning, senior
leader PPP Pakistan, Pakistan
205. MNA Dr. Shireen M Mazari; Ex minister Human Rights, Pakistan
206. Sayed Zulfikar Abbas Bukhari; Former minister Overseas Pakistanis, special assistant to Ex. Prime
Minister Imran Khan, Pakistan
207. Sardar Ijaz Ahmed Jaffar; Minister Public Health Engineering and Population Welfare, Balochistan,
Pakistan
208. MNA Syed Muhammad Raza; Former Law minister and member Balochistan Assembly, Pakistan
209. Khalid Khursheed Khan; Former Chief Minister GB, Pakistan
210. MNA Nadeem Afzal Chan; Former minister and special advisor to the Prime Minister, Pakistan
211. Dr. Rao Shahid; President Electronic Media Producers Association Pakistan
212. Syed Bilal Qutab; Senior Anchor person and host of religious affairs top ranking program, Pakistan
213. Syed Ameer Abbas; Senior Anchor person, Journalist, Pakistan
214. Peer Syed Ali Raza; Former Religious minister Azad Kashmir, Pakistan
215. Raja Nasir Ali Khan; Former minister Tourism sports and youth affairs GB Pakistan, Pakistan
216. Ilyas Siddiqui; Former advisor to CM GB on mines and minerals, Pakistan
217. Allama Raja Nasir Abbas Jaffri; Chairman MWM Pakistan, Pakistan
218. Liaqat Baloch; Naib Ameer Jamaat Islami Pakistan, Pakistan
219. Mufti Gulzar Ahmed Naeemi; Central president Jamaat Ahle Haram Pakistan, federal member bainul
mazahib aman council, Pakistan
220. Zia Ullah Shah Bukhari; President Markazi Jamiat Ahle Hadith, member Islamic Ideological Council,
Pakistan
221. Molana Muhammad Hussain Akbar; Member Islami Nazriati council, Pakistan
222. Amir Fareed Koreja; Prominent Religious scholar, Former advisor to the Prime Minister, Peer and
Gaddi Nasheen (Successor) of Darbar Khawaja Ghulam Fareed, Kot Mithan Sharif, Punjab, Pakistan
223. Molana Zaheer Ul Hassan Naqvi; Renowned religious scholar, Former member of Overseas
Commission Punjab and Chairman Almustafa Foundation reg USA, Pakistan
224. Khawaja Mudassar Mehmood Tounsavi; Member Provincial Shora Punjab JUI (F), Sajada Nasheen
Darbar Shah Suleman Tounsavi, Pakistan
225. Nasir Abbas Shirazi; President Center for Pakistan and Gulf studies, Central general secretory MWM,
Pakistan
226. Advocate Waseem Gadhee; General Secretary District bar association To ba Tek Singh, Punjab,
Pakistan
227. Ali Akbar Natiq; Renowned Poet, Novelist and short story writer, Pakistan
228. Ali Javed Naqvi; Senior Journalist, academic, writer and columnist, Pakistan
229. Dr. Qindeel Abbas; Assistant professor Qaid-e-Azam University Islamabad, school of politics and
international relations (SPIR), Pakistan
230. Advocate Khawar Raza Bukhari; Advocate Supreme Court of Pakistan, Pakistan
231. Sardar Zulfiqar Haider; Provincial voice chair Channiot, Punjab. Gaddi Nasheen (successor) Darbar
Shah Dola, Pakistan
232. Raja Najabat Ali Khan; former president Sahiwal Bar council, Pakistan
233. Advocate Imtiaz Mirali; former president Khaniwal Bar council, Pakistan
234. Advocate Khadeja Siddiqui; Advocate and Social Activist, Pakistan
8
235. Azam Ranjha Advocate; former central president Anjunman Talaba Islam (ATI), Pakistan
236. Muqtadir Akhtar Shabbir; General Secretary Supreme Court Bar Association, Pakistan
237. Fazal Naqvi; Former President Ali Pur Bar Association, Pakistan
Turkiye
238. Dr. Haci Mehmet Altintas; Theology, Turkiye
239. Levent Basturk; Political Scientist, Turkiye
240. Dr. Emcet Saidoglu; Turkiye
241. Mehmet Ali Balta; State Planning Office Expert, Turkiye
242. Ahmet Faruk Unsal; former Turkish Parliament MP, Turkiye
243. Ulises Tamayo; General Coordinator of the Intercultural University of Tlaxcala, Turkiye
244. Haluk Yesilbagdan; Physician, Turkiye
Australia
Australia
245. Rev. Father Dave Smith; Anglican Priest and Social Activist, Founder of "Fighting Fathers", Australia
Europe
Belgium
246. Dr Yacob Mahi; Theologian and Islamologist, Professor of Islamic Studies, Belgium
France
247. Imad Hamrouni; Political Commentator, Académie Géopolitique de Paris, France
248. Jean Michel Vernochet; Writer and Former Journalist at "FIGARO", France
249. Isabelle Coutant Peyre; French Attorney at Law, International Lawyer, France
250. Dr. Christian Bouchet; Writer and Publisher, Former Politician, France
251. Col. Alain Corvez; Former Adviser of Minister of Defense, Former Adviser at the UNoffice-Beirut, France
252. Dr. Aude K. Chesnais; PhD. Researcher, Université de Bretagne Occidentale, Francec
253. Dr. Max Emagna; President of Negrophobia Observatory in Europe (NOE), France
Germany
254. Prof. Safa Shoaee; University of Potsdam, Germany
Ireland
255. Dr. Declan Hayes; Retired Professor at the University of Southampton, Strategic Culture Review,
Ireland
256. Gearóid Ó Colmáin; Geopolitical Analyst and Journalist, Ireland
257. Tommy Sands; Folk Singer, Songwriter, Radio Broadcaster, Ireland
258. Prof. Ronit Lentin; Trinity College, Ireland
Italy
259. Prof. Pietro Di Gianantonio; University of Udine, Italy
260. Prof. Claudio Mutti; Former Full Professor, University of Bologna, Italy
261. Prof. Claudio Moffa; Former Full Professor, University of Teramo, Italy
262. Pino Cabras; Former MP and Writer, Italy
263. Prof. Claudio Mutti; Former Professor, University of Bologna, Italy
Moldova
264. Iurie Roșca; Former First Deputy Prime Minister of Moldova, Moldova
Netherlands
9
265. Aralez Pan; Decolonial Network and Grassroots Organization, Netherlands
266. Prof. Sandew Hira; Secretary of the Decolonial International Network Foundation (DIN) and
Author, Netherlands
267. Sheher Khan; Leader of the DENK Party in the Municipality of Amsterdam, Netherlands
268. Dr. Munyaradzi Mushonga; Global Academic Director of DIN, Netherlands
Portugal
269. Prof. Boaventura De Souza Santos; University of Coimbra, Portugal
Serbia
270. Dragana Trifković; Director General of the Center for Geostrategic Studies, Serbia
271. Tesa Tesanovic; Journalist and Podcaster, Serbia
Spain
272. Ainhoa Nadia Douhaibi Arrazola; Independent Researcher, Writer, and Activist, Spain
Switzerland
273. Rania Madi; United Nations Legal Advocacy Representative of Badil, Resource Center for
Palestinian Residency and Refugee Rights, Switzerland
UK
274. Rev. Dr. Stephen Sizer; Retired Anglican Priest, chair of the Convivencia Alliance and director of
Peacemaker Trust, UK
275. Dr. Daud Abdullah; UK
276. Clare Short; former Secretary of State for International Development, UK
277. Prof. Abbas Edalat; Professor in Computer Science and Maths at Imperial College London, UK
278. Fahad Ansari; Solicitor, UK
279. Prof. Avi Schlaim; author, Emeritus Fellow of St Antony's College and a former Professor of
International Relations at the University of Oxford, UK
280. Dr. Les Levidow; Senior Research Fellow, Open University, UK
281. Samir Al-Haidari; Ahlulbayt Islamic Mission (AIM), UK
282. Muhammad Kozbar, Finsbury Park Mosque, UK
283. Saghir Hussain; Solicitor, UK
284. Ahammed Hussein; Chair of MPACUK
285. Dr. Katy Sian; University of York, UK
286. Raza Kazim; Senior Lecturer, Middlesex University, UK
287. Baroness Uddin; House of Lords, UK
288. Abbas Ali; Inminds, UK
289. Prof. Rodney Shakespeare; former visiting professor at Trisakti University (UK)
290. Chris Williamson; former Member of Parliament, UK
291. Prof. Shahd Abusalema; British Palestinian with family in Gaza, UK
292. Prof. Rodney Shakespeare; Former Visiting Professor of binary economics at Trisakti University, UK
293. Dr. Yvonne Ridley; Secretary General of "the European Muslim League, UK
294. Dr. Konrad Rekas; Chairman of Polish YES for Scotland Association, Lecturer at the Nottingham Trent
University and former government official, Scottland-Poland
295. Rabbi Elhan Beck; Neturei Karta, UK
296. Rabbi Ahron Cohen; Neturei Karta UK
297. Dr. Angie Sandhu; UK
298. Dr. Malcolm Artley; UK
299. Prof. Sara Mills; UK
300. Dr. Hana Sandhu; UK