Politics
2023-November-19  13:04
IRGC Commander: Israel in War of Attrition' Leading to Inevitable Collapse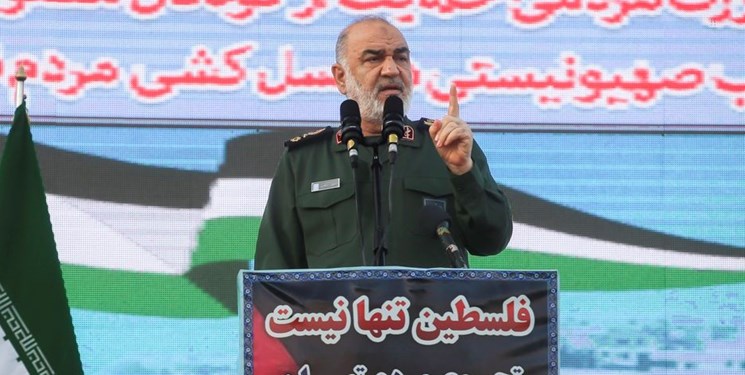 TEHRAN (FNA)- Commander of the Islamic Revolution Guards Corps (IRGC) Major General Hossein Salami said that the Israeli regime is moving towards its "inevitable collapse" in a "war of attrition" with Palestinians resistance movements.
Major General Hossein Salami made the remarks while addressing a rally in the Iranian capital Tehran on Saturday.
The nationwide protest was held to show solidarity with Palestinians in the besieged Gaza Strip who have been under relentless Israeli attacks since October 7.
"Palestine stands on the path of a war of attrition...Israel will face a definitive defeat," he declared. "Operation Al-Aqsa Storm showed that the US help cannot save Israel from the danger of collapse."
It is the "biggest humiliation" for the US and Israel who believe they can emerge victorious in the ongoing war on Gaza by killing children and infants, Salami stated.
Even the Israeli army cannot prevent heavy operations against the Tel Aviv regime, he added.
The IRGC chief emphasized that the ongoing military operation also revealed that the Palestinian resistance fighters can defeat the Israeli regime within only 48 hours.
He said the bombardment of people in Gaza and the US efforts to prevent the establishment of a ceasefire in the besieged Strip as well as its political and logistic support for Israel showed moral collapse in the United States.
Salami said hatred of the US has spread all over the world and it is more isolated than ever. He said Muslim and non-Muslim nations would inflict a heavy blow upon the US economy by boycotting its products.
The IRGC chief expressed confidence that Muslim nations would avenge the Israeli regime's atrocities, saying, "Muslims' revenge on oppressors has no expiration date."
The top Iranian commander hailed the great capacities of the Palestinian resistance movements, especially Islamic Jihad and Hamas, saying, "Hamas and Islamic Jihad cannot be collapsed. Neither Palestine nor its young fighters can be destroyed."
He expressed confidence that Israel's "definite defeat" would trap it in a quagmire, adding that there is no indication of victory of the US and Israel in their ongoing battle against the resistance fighters in Gaza while "everything is ready for Palestine's liberation."
On Saturday, tens of thousands of Iranians from all walks of life took to the streets in many cities to express their support for the Palestinian people and condemned Israel's bombing campaign against the besieged Gaza Strip.
Huge crowds of people hit the streets of different Iranian provinces on Saturday to express their outrage at the ongoing Israeli bloodshed in Gaza which has been under relentless Israeli attacks for weeks now.
They waved Palestinian flags and chanted slogans against Israel and its western backers, the United States in particular, setting the Israeli and American flags on fire.
The protesters also condemned Israeli massacring of civilians and called for the Zionist regime to be taken to task for its crimes.
Iranian demonstrators have held several rallies since Israel launched its war on the impoverished Palestinian territory nearly one and a half months ago.
In early October, Hamas launched a multi-pronged surprise military operation via land, sea and air against Israel. The group announced it was in response to the storming of Al-Aqsa Mosque in occupied East Jerusalem and Israeli settlers' growing violence against Palestinians. The attacks have so far killed more than 1,200 and injured over 5,500, according to Israeli officials. Hamas also announced it is holding between at least 200 and 250 hostages.
Following the multi-front attack by Hamas, Israel carried out heavy bombardment across the Gaza Strip, killing more than 12,500 Palestinians, including at least 5,000 children and over 3,500 women, and wounding over 30,000 others, and levelling entire neighbourhoods. The bombing, as well as enforced displacement orders by the Israeli Army, has also pushed 1.6 million people out of their homes.
Tel Aviv has also imposed a "complete siege" on Gaza, cutting off food, electricity, fuel and water supplies. The move has plunged the blockaded territory into a humanitarian crisis.
The Gaza Health Ministry has confirmed that the healthcare system in the besieged territory has "totally collapsed due to the Israeli war". Dozens of hospitals and tens of medical centers are out of service due to Israeli raids, according to the enclave's health ministry. The UN agencies have also warned that the humanitarian situation in the Gaza Strip is "catastrophic", calling for more international help as conditions deteriorate in the densely populated besieged enclave.
Gaza is one of the most densely populated places on Earth, where some 2 million people live in an area of 140 square miles. It has been almost completely cut off from the rest of the world for nearly 17 years. More than half of its population lives in poverty and is food insecure, with nearly 80% of its population relying on humanitarian assistance.
Tehran says the history of Israel is full of assassinations, massacre, torture and killing of Palestinian kids, and described Tel Aviv regime's atrocities and massacre of Palestinian women and children as indicative of the destitute of Zionists. Iranian officials say Tel Aviv has been struggling for more than 70 years to exit its identity crisis which has been mixed with genocide, plunder, forced displacement and scores of other inhumane moves.