World
2023-November-21  11:53
Poll: Trump Expands Lead Over Biden in 2024 Match-Up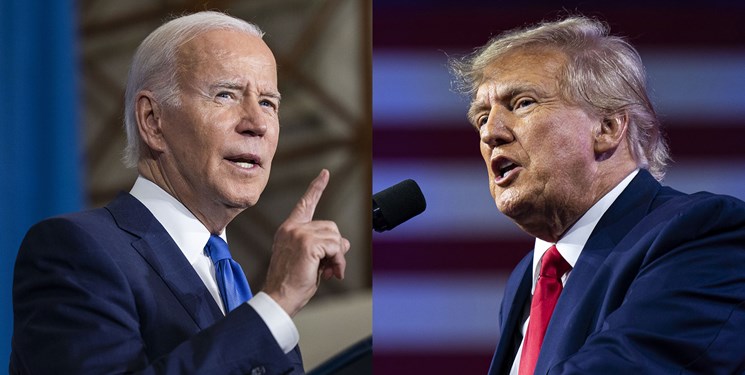 TEHRAN (FNA)- Former President Donald Trump's lead over President Joe Biden in a hypothetical 2024 match-up is growing, according to a Monday poll.


The Harvard CAPS-Harris Poll survey, shared with The Hill, shows Trump receiving 48 percent support among respondents, Biden received 41 percent and 11 percent said they did not know or were unsure who they'd vote for, The Hill reported.
The poll shows Trump has gained 2 percentage points since a similar survey was conducted in October, which placed the former president at 46 percent and Biden at 41 percent.
When those who said they did not know or were unsure are asked which candidate they're leaning toward, Trump sits at 53 percent while Biden is at 47 percent.
The development comes against the backdrop of recent polling that shows Trump outperforming Biden in a handful of critical battleground states. A survey released earlier this month by The New York Times and Siena College found Trump leading Biden by 5 points in Arizona, 6 points in Georgia, 5 points in Michigan, 10 points in Nevada and 4 points in Pennsylvania.
In The New York Times/Siena College poll, Biden outperforms Trump by 2 points in Wisconsin.
But the Biden campaign has publicly sought to brush off the bad polling, arguing it's still a year out from the election.
"Predictions more than a year out tend to look a little different a year later. Don't take our word for it: Gallup predicted an 8-point loss for President (Barack) Obama only for him to win handily a year later," Biden Campaign Spokesperson Kevin Munoz told The Hill earlier this month.
"Or a year out from the 2022 midterms, when every major outlet similarly predicted a grim forecast for President Biden," he added.  
"Coming off those historic midterms, President Biden's campaign is hard at work reaching and mobilizing our diverse, winning coalition of voters one year out on the choice between our winning, popular agenda and MAGA Republicans' unpopular extremism. We'll win in 2024 by putting our heads down and doing the work, not by fretting about a poll," he added.
The Harvard CAPS-Harris Poll was conducted between November 15-16 with 2,851 registered voters. It is a collaboration of the Center for American Political Studies at Harvard University and the Harris Poll.
The survey is an online sample drawn from the Harris Poll and weighted to reflect known demographics. As a representative online sample, it does not report a probability confidence interval.